Becco & MasterChef Judge Joe Bastianich
On a recent trip to New York, I had the opportunity to dine at Beccco (lunch), Mesa Grill (dinner), and Butter (dinner). (See other posts for Mesa Grill and Butter under the experiences tab).
I must admit that MasterChef Judge Joe Bastianich is one of my favorites, so I was excited to have lunch at the restaurant that he and his mother, Lidia, opened in 1993. I knew that I was in for a treat. Italy in New York—hard to beat that!
Even though I was dining alone, they seated me at delightful table under the skylight in the dining room. They had thought of everything. For example, they kept sending someone up to the roof to move umbrellas so that the sunlight coming through the skylight did not blind their customers. Attention to the details matters.
I was barely seated when they brought me a basket of bread, olives, and house-made. white bean dip. I was in heaven. But more was in store.
For my appetizer, I selected one of the daily specials—Proscuitto. I was served thinly sliced prosciutto that they said was from Parma or San Danielle, along with 24 month aged Parmiggiano Reggiano. When they set this plate in front of me, I realized that it was probably intended to be shared, but it was so amazing that I ate the whole thing. The proscuitto was probably some of the best that I have ever eaten.
For my entree, I selelcted the Pesce Intero del Giorno. It was a whole, roasted branzino with cherry heirloom tomatoes, diced red onions and black olives tossed with Sicilian oregano and parsley. (Branzino is the name used in Northen Italy for European seabass.) They presented the whole, roasted fish and asked if I would like it fileted in the kitchen. I accepted their offer. They returned with the beautiful plate shown below.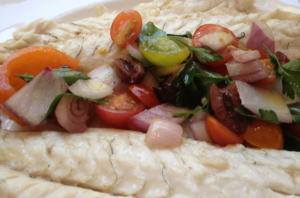 They then offered to finish it tableside with extra virgin olive oil and sea salt.
This was an amazingly clean, healthy, and beautiful Italian fish dish. No guilt, but pure pleasure in each bite. I will definitely return to Becco when given the chance.
© 2013 FoodieOasis