Making and Devouring Chocolate Coconut Macaroon Kisses
When a cooking experiment starts out with unwrapping 40-50 pieces of chocolate candy, how can you go wrong!
But you ask, "where did the idea for this experiment come from?" You won't believe it, but it started out with me trying to count calories … You see, we had five house guests coming for a couple of nights (don't ask where I was going to put them all!), and I needed an easy dessert but wanted to try something new. When I was searching for info on how many calories are in the Hershey's chocolate kiss that I was about to eat (the answer is 22.2), I happened onto a recipe for coconut macaroon cookies with a chocolate kiss in the middle of each cookie. The picture was amazing, and I love chocolate and coconut. At that point, I decided I had to make them for our guests.
In case you haven't figured it out yet, I don't subscribe to the theory that you only serve guests things you have previously tested 🙂 . I also tend to make small changes even when trying a recipe for the first time—just can't help myself… In this case, I swapped out vanilla extract for the almond extract and the results were fantastic. The cookies disappeared very quickly, so I thought I would share the baking experience and the recipe (see the recipe tab) with you. However, this baking experience did not do much for may calorie counting!
Start by unwrapping about 48 Hershey's chocolate kisses (plus a few extras for tasting—you need to make sure they are fresh 🙂 ). If you prefer, you can substitute your favorite chocolate, chunk candy.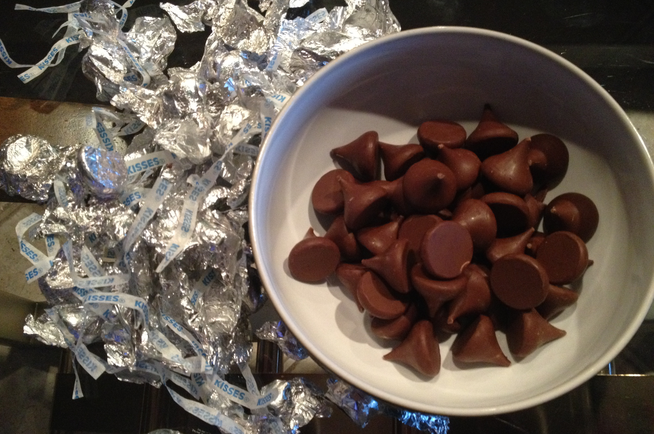 Then I creamed room temperature butter, cream cheese and sugar in a mixing bowl until well blended. I used my electric, stand mixer, but you could use a handheld mixer or mix theingredients by hand.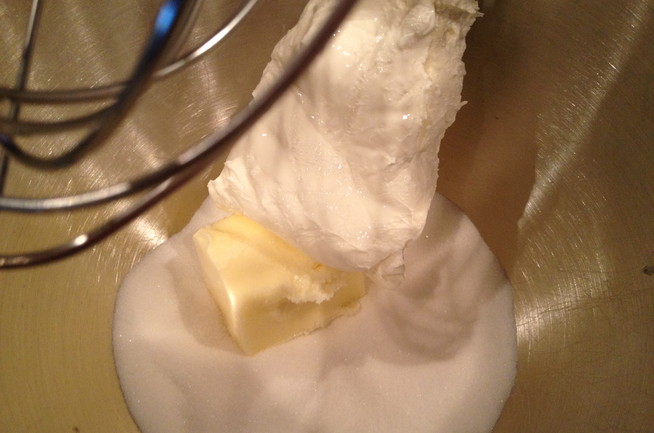 Then I separated an egg and put the egg yolk into a measuring cup to make sure I didn't accidentally add any eggshell to the cookies. (I usually save egg whites for breakfast the next day.) Next I added 2 teaspoons of vanilla extract and orange juice to the measuring cup with the egg yolk.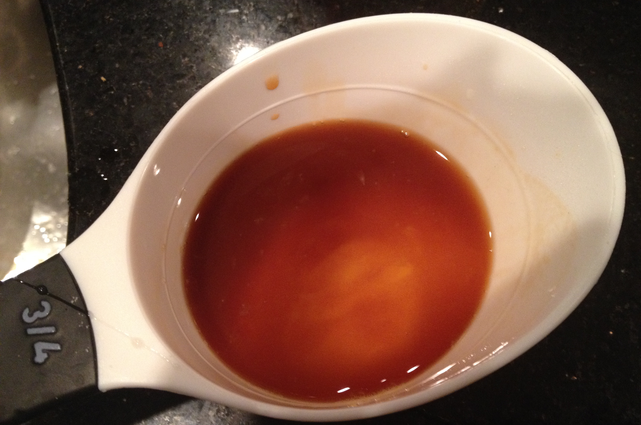 Then I added these wet ingredients to the butter mixture and blended the ingredients until they were evenly incorporated.
In a separate bowl, I mixed the flour, baking powder and salt. I have found with baking, it is better to use regular table salt rather than kosher salt. Table salt is finer is distributes through the baked goods more evenly.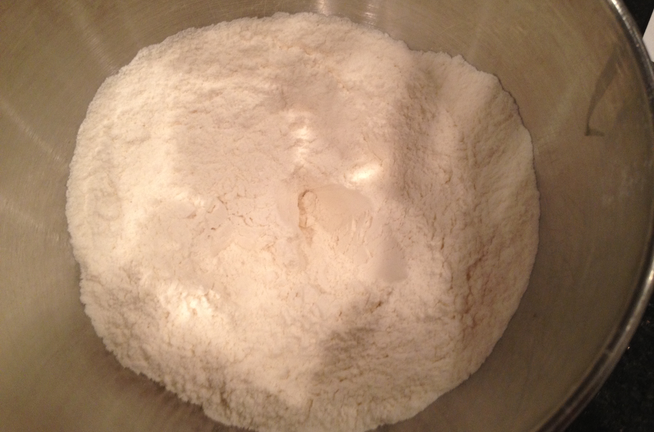 The next step was to gradually add the dry mixture to the wet mixture with the mixer running on low speed to prevent sending flour all over the kitchen. I let the mixer run until the ingredients were well blended.
Then I stirred in 3 cups of sweetened coconut flakes by hand.
The resulting dough is stickly and somewhat wet, so it needed to chill it in the refrigerator for about an hour to make it easier to form into balls.
While the dough was chilling, I pre-heated the oven to 350 degrees. Then when the dough was chilled, I used a small scooper to form balls of cookie dough (about 1 inch in diameter). I rolled each scoop of dough between the palms of my hands and then rolled the cookie balls in more coconut! These cookies have coconut on the inside and outside! Yummy!
I lined the cookie sheets with parchment for easy cleanup. Because I have a convection oven, cookies tend to bake quickly, so the cookies were ready in about 8 minutes, but you may need to leave them in a little longer if you are not using a convention oven. You want the cookies to be lightly browned as shown in the picture below.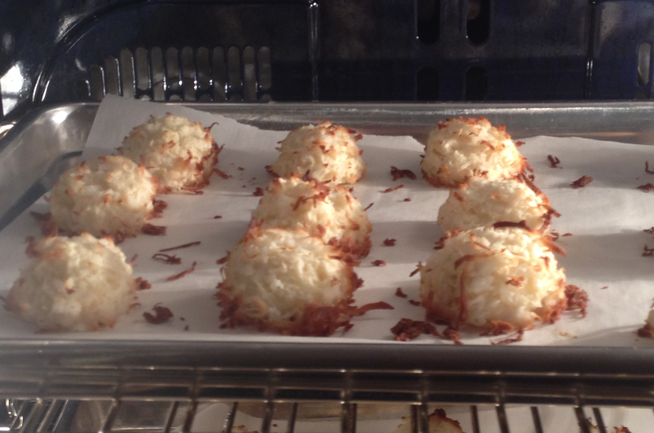 When I removed the cookies from the oven, I immediately pressed a chocolate kiss into the center of each cookie.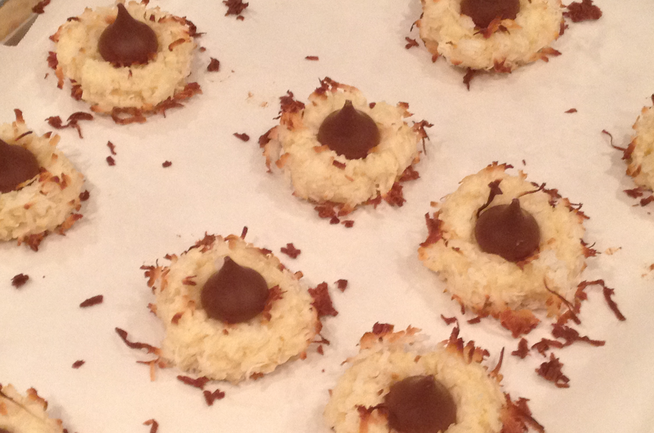 The kisses became very soft, so don't touch the chocolate until it cools if you want the kisses to maintain their shape. I must say that my husband ("J") and I could not resist tasting these cookies while they were warm. Wow! A little messy with the soft chocolate, but they were addictive!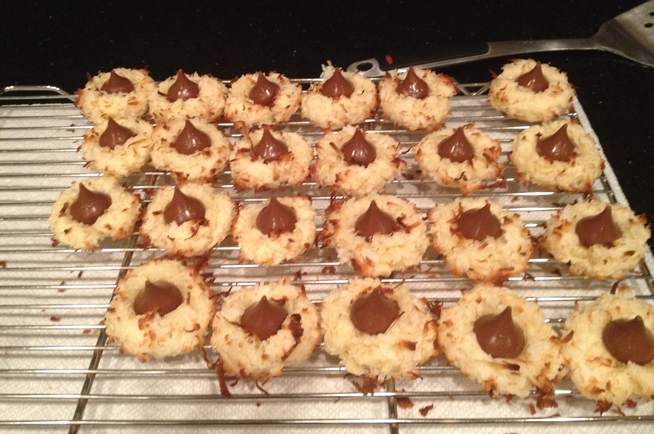 Even though the recipe makes a "cookie" dough, the resulting cookie is much more like a soft coconut macaroon than a coconut cookie. And the combination of the coconut and chocolate was delicious. Needless to say, these cookies disappeared quickly. Our guests loved them—so did we.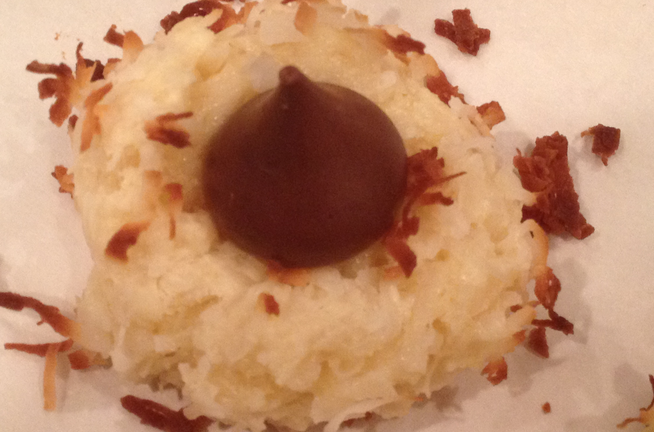 Hope you try them and let me know what you think.
The recipe can be found by clicking here.
© 2014 FoodieOasis