Thanksgiving Dressing (aka Stuffing) Blog Tasting Party—Drum Roll Please…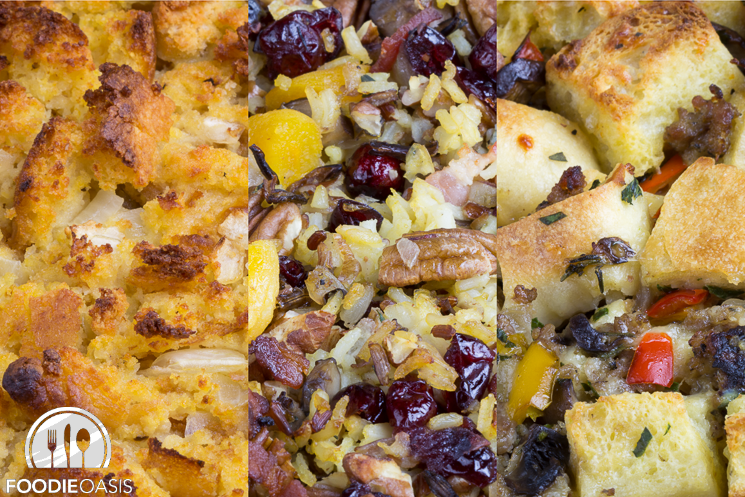 When it comes to Thanksgiving, I always think of turkey and dressing, or as some would call it—stuffing. While there are many ways to prepare a turkey, there seem to be even more versions of dressing, so we decided our pre-Thanksgiving Blog Tasting Party (BTP) would focus on that amazing comfort food—dressing.
But first we need to deal with the terminology—dressing versus stuffing. In my family we never stuffed the turkey with our bread-based side dish but instead cooked it in a separate baking dish. Because it was not "stuffed" in the turkey, we called it dressing. (I know dressing goes on a salad, but work with me here.) However, I realize this distinction is not strictly followed. I have many friends that still call it stuffing even when they bake it in a separate dish, so we should just agree the name doesn't really matter. It is really about the taste and traditions!
Depending on where you grew up and what your parents and friends considered traditional, you probably are accustomed to a particular style of dressing, or stuffing. Having been born in West Texas, my mother always makes the chunky, cornbread and biscuit dressing that her mother made.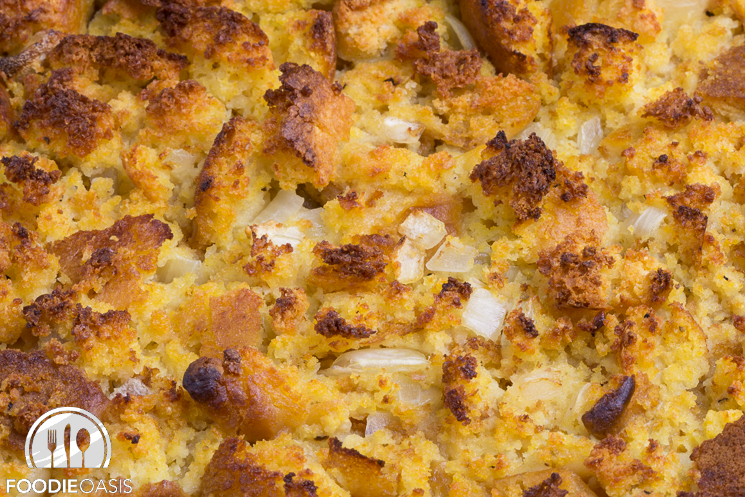 Yummy, particularly when smothered in mushroom cream gravy (no, I have no idea why mushroom gravy was a tradition in my West Texas family)! But others growing up closer to bodies of water, such as the gulf coast, often put oysters in their dressing. Then there are versions with different types of fruit (e.g., apples or dried fruit), meats (e.g., sausage or bacon), breads (e.g., white, sourdough, or ciabatta), vegetables (e.g., celery, carrots, or onions), herbs (e.g., rosemary, thyme, or parsley)… The possibilities are endless, and based on polling my friends, the thought of changing the family tradition can cause an outright uproar at Thanksgiving!
Well I decided to create three entirely different dressings for the tasting to represent a variety of traditions. The first choice was easy. It had to be Mom's cornbread and biscuit dressing. I decided that the second dressing should be based on a different type of bread, but I didn't want a dressing that was too soggy. That led me to pick ciabatta as the base.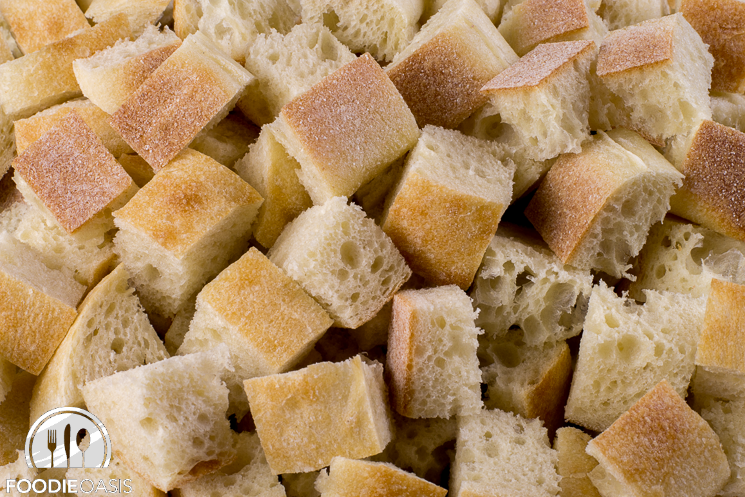 Then I wanted to make a dressing that was gluten free, so I decided on wild rice as the base for the third dressing.
The next step was to start brainstorming about what ingredients to combine with the ciabbata and what to combine with the wild rice. I decided the ciabatta would pair well with sausage, mushrooms, onions, bell peppers (red, yellow, and orange), garlic, parsley, and thyme.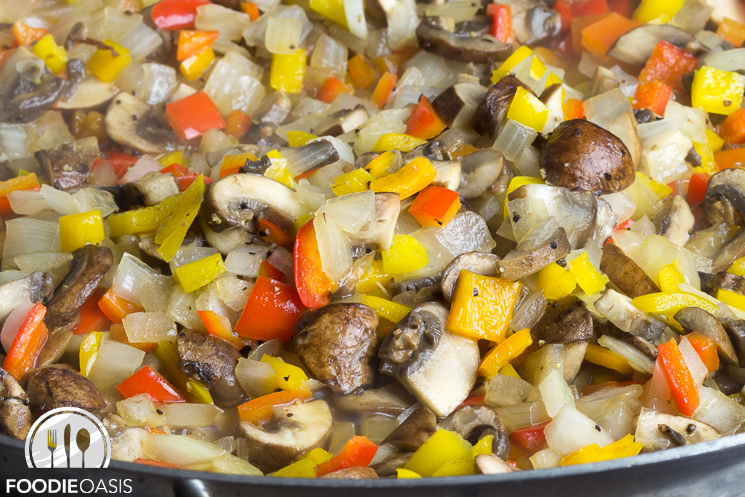 For the wild rice, I decided to use a quick cooking rice blend with white, brown, wild, and red rice cooked in broth or stock for added flavor. Since I am not a huge rice fan, I knew I needed to add a lot of my favorite ingredients to convince myself that rice was a good base for dressing. I decided that dried cranberries and Mediterranean apricots (not the drier California ones) would add a traditional Thanksgiving touch.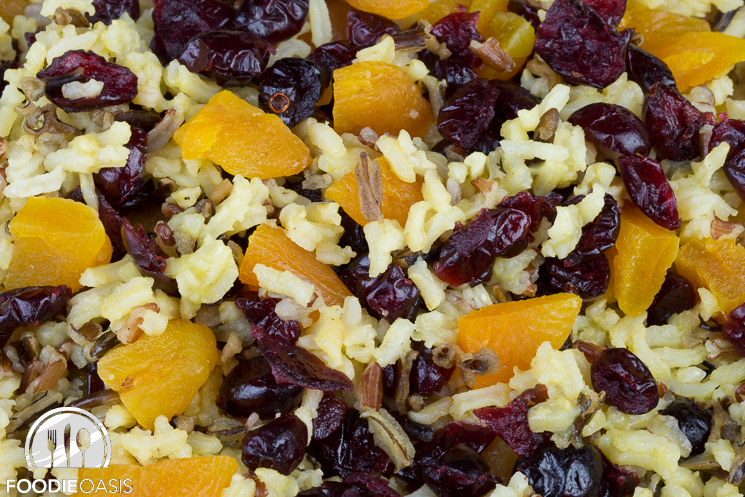 Mushrooms, onions, and fresh thyme also came to mind as tasty additions to rice.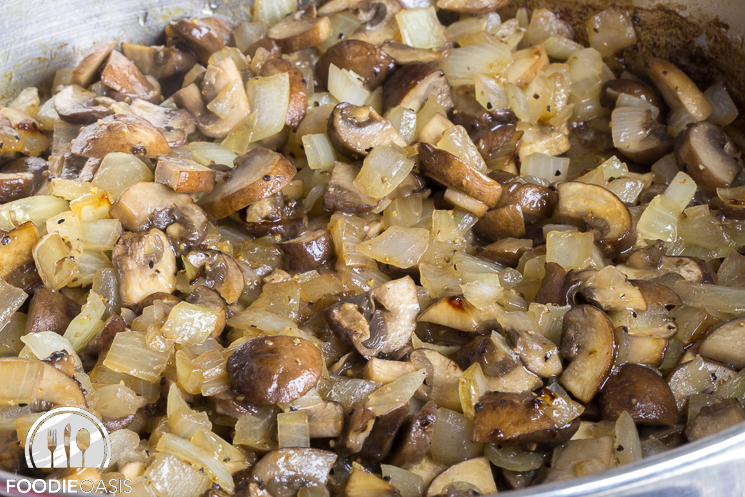 Toasted pecans sounded like a good idea too.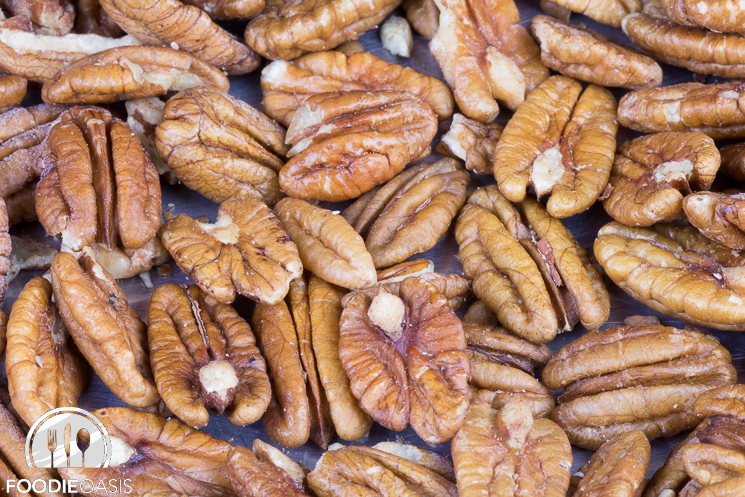 But then bacon makes everything better, right? Right, so bacon had to be part of the recipe!
Note, however, you could omit the sausage and bacon from these recipes and quickly turn them into vegetarian versions as long as you use vegetable broth instead of turkey or chicken broth.
Then it was time for a test bake. As a result, I made a few changes to the initial recipes. For example, I decided that the ciabatta would be better with a custard-type liquid rather than just plain broth because it would make the dressing more like bread pudding. Also, rather than baking the wild rice uncovered, which led to a really crunchy top layer of rice, I decided to bake the wild rice covered for the first half of the baking time and then uncover it for the last half.
Now that the recipes were ready, it was time for the Blog Tasting Party. We had invited friends to come share a pre-Thanksgiving potluck dinner, so they arrived with amazing side dishes, homemade rolls, desserts, drinks, and more. The party had started!
When it came time to vote for their favorite dressing, it was interesting to see the votes were so evenly divided among the three choices. But…insert drum roll here…the wild rice won by a few votes with the cornbread and biscuit dressing in second, and trailing by one vote, the ciabatta dressing came in third! It seemed almost everyone voting had a clear favorite in their mind, but a few couldn't decide, so they abstained. Based on the discussions, the reasons for the different preferences varied a lot. One friend said she isn't crazy about rice but really loved this particular version of wild rice so she had to vote for it (no that wasn't me, but I must say I could have said the same thing—the wild rice really was good!). Another couple said that it had to be the cornbread and biscuit dressing because it reminded them the most of Thanksgiving. Then another friend told me it wasn't even close—it had to be the ciabatta dressing. I guess we had three winners. But in the end, it really didn't matter whether the choice was a newly found favorite or a comforting traditional version, it was clear that good friends and good food make for a great Thanksgiving!
Check out the recipes and let me know what you think.
For the Cornbread & Biscuit Dressing Recipe click here.
For the Wild Rice, Bacon, Cranberry and Apricot Dressing click here.
For the Ciabatta, Sausage and Mushroom Dressing click here.
But if you decide to break tradition at your Thanksgiving dinner table, consider making two versions—one traditional and one new one—to avoid a family uproar.
Happy Thanksgiving!
© 2014 FoodieOasis