Wild Rice, Bacon, Cranberry and Apricot Dressing (aka Stuffing)
Ingredients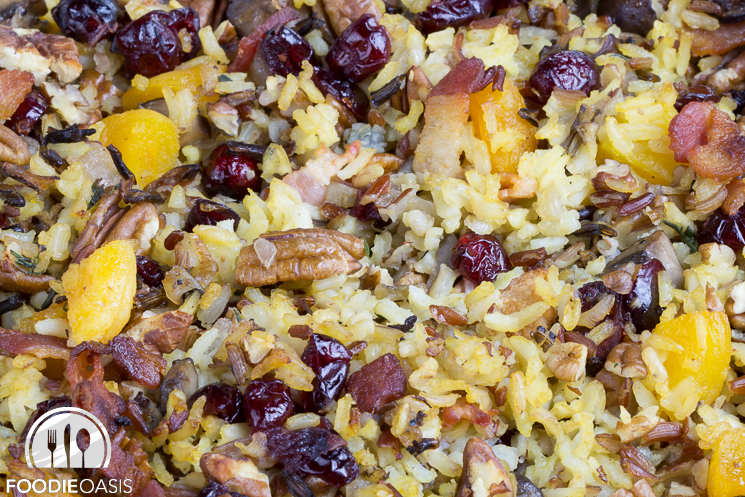 2 cups uncooked wild rice blend, quick cooking (such as Rice Select's Royal Blend with white, brown, wild and red rice)
1/2 lb bacon, cut into ½ inch strips
1 cup dried cranberries
3/4 cup dried apricots, quartered (preferably Mediterranean apricots because they are not as dry as the California apricots)
1 1/4 cup pecans, toasted
1/2 onion, chopped
8 oz. cremini mushrooms, halved and sliced
1 Tbsp. fresh thyme, chopped
2 1/2 cups low-sodium chicken, turkey or vegetable broth or stock
1 cup water
2 Tbsp. butter
Salt and pepper
Instructions
Preheat oven to 350 degrees
Place the pecans in a single layer on a baking sheet and place the baking sheet in the oven for 4-5 minutes to toast the pecans. Watch them closely because they can burn easily.
When the pecans have cooled, coarsely chop them.
Turn the oven down to 325 degrees
Cook the rice according to the directions but use 2 parts broth and 1 part water instead of all water. (The rice I used said to use 3 cups water, so instead I used 2 cups broth and 1 cup water)
While the rice is cooking, fry the bacon. Remove and save the bacon and bacon grease.
Melt the butter in the frying pan. Add the onions and mushrooms. Add salt and pepper (about 1 tsp. each but you can adjust based on your preferences). Cook until the onions are tender.
Gently combine the rice, cranberries, apricots, pecans, bacon and bacon grease, mushrooms, onions, thyme and remaining 1/2 cup broth in a large bowl.
Transfer the rice mixture to a buttered baking dish and cover with foil. Bake for 15 minutes.
Remove the foil and bake for another 15 minutes.
Note that you can substitute 1 cup basmati rice and 1 cup wild rice for the quick cooking wild rice blend, but they will require longer to cook. You should follow the directions for cooking each of the two types of rice and then combine them.
© 2014 FoodieOasis