Defs and Diffs: What Is Gremolata Anyway?
So do you ever see food articles, recipes, or menu items that include ingredients, terms or descriptions that you aren't really sure what they mean?  (For example, what is gremolata?)  But, you really don't want to ask because you figure you ought to know what they mean.  After all, you love food and are supposed to know these things, right?  Wrong.  There is no way for us to know everything unless perhaps we went to culinary school, and even then, I bet the trained chefs still use Google from time to time 🙂 .
These experiences are the inspiration for this new category of posts, which I am calling Defs & Diffs.  The goal is to answer questions that I have had to look up, someone has asked me about, or would just be useful to know.  These questions focus on 1) Defs (definitions) of ingredients, terms or descriptions that we may not know off the top of our head, and 2) Diffs (differences), such as what is the difference between arrabiatta and fra diavola or what is the real difference between bread flour and all-purpose flour and when I can substitute one for the other.  I hope you enjoy this new category!  If you have a particular question or request, please put it in a comment at the end of the article and watch for the answer in an upcoming post. 
So now to the question:  What is Gremolata Anyway and how do you make it?  Do you know?  I know I had to look it up the first time I saw it, and I have started seeing it in more and more in articles and posts lately.  For example, in a recent issue of Fine Cooking, there is a mouthwatering photo and recipe for Seared Sea Scallops with Sesame-Cilantro Gremolata. Click here for the Fine Cooking recipe.  But what is it?
Gremalata, also Known as Gremolada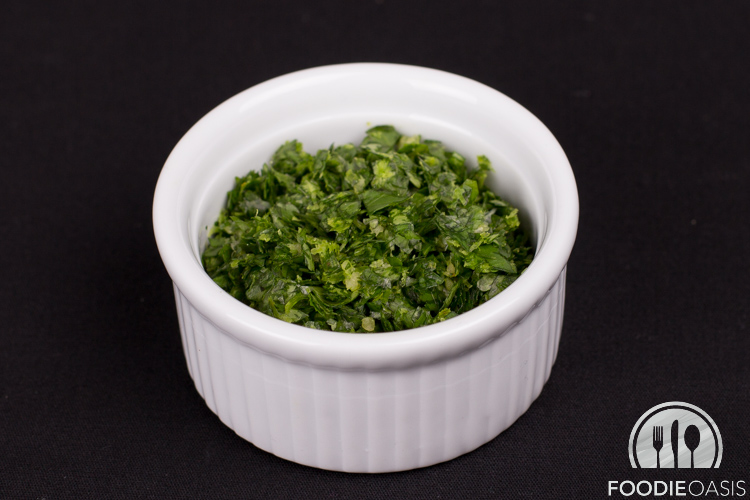 The simple answer is that gremolata is an Italian, chopped herb-based condiment traditionally made with a combination of parsley, garlic and lemon zest and served with dishes such as osso buco.  Gremolata is a simple condiment, but the combination of flavors is bold and makes you think it is much more complicated and complex.  In other words, you get a lot of flavor for not a lot of work.  Who doesn't like that kind of recipe, right?  There are also creative versions of gremolata that substitute other citrus zest (orange, lime, etc.) for the lemon zest and other herbs (cilantro, mint, etc.) for the parsley.  You could even substitute freshly grated horseradish for the garlic.  Other variations add ingredients, such as pine nuts, grated Pecorino Romano, etc.
Note that one of the things that distinguishes gremolata from other herb-based condiments and sauces with similar ingredients is that it does not traditionally use any liquid (no olive oil, lemon juice, vinegar, etc.).  But that leads to the question:  How does gremolata differ from the following herb-based condiments/sauces?
Chimichurri
Pesto
Persillade
Pistou
Here is a simple comparison but remember most recipes can be made with lots of variations so there is room for overlap between the various sauces.
Chimichurri
Chimichurri is a green sauce often served over grilled meat that is made with parsley, garlic, olive oil and white vinegar, along with various add-ins such as oregano and red pepper flakes.
Pesto
Pesto is a sauce that usually combines garlic, basil, pine nuts, olive oil and Parmigiano-Reggiano cheese.  While it is often served with pasta or bread, it goes well with meats, in salad dressings, or over vegetables.
Persillade
Persillade combines parsley and garlic and can be further seasoned with other herbs, oil, vinegar and/or salt.
Pistou
Pistou is a French sauce similar to Italian pesto that combines garlic, basil and olive oil.  But unlike pesto, pistou omits the pine nuts.  Traditionally, it would not include cheese, but some recipes call for a cheese, such as parmesan.
Here is the recipe for a simple gremolata that I put together the other night.  Feel free to experiment with the amount of herbs, garlic and zest.  There is not one right recipe, but don't skimp too much on the garlic.  It adds a wonderful punch!

Gremolata
This gremolata is an excellent condiment for meat or fish.
Author:
FoodieOasis | Jo Dale Carothers
Ingredients
1 cup parsley (or cilantro) leaves
2 cloves garlic
2 lemons (or limes if you use cilantro instead of parsley)---zest only
Instructions
Coarsely chop the parsley or cilantro.
Mince the garlic cloves.
Zest the lemons or limes.
Add the minced garlic and zest to the pile of coarsely chopped parsley or cilantro.
Finely chop the combined mixture.
© 2016 FoodieOasis