Chocolate Pie Recipe (aka French Silk Pie)
Filling Ingredients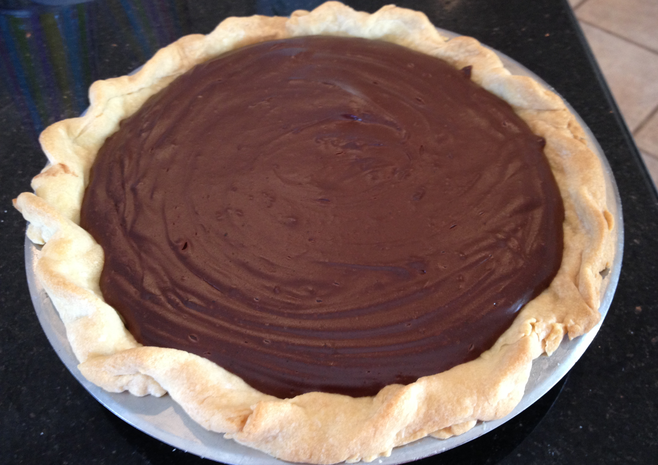 3/4 cup sugar
3/4 cup all-purpose flour
1/4 teaspoon salt
3 cups milk (whole milk adds to the richness of this pie, but it works fine with lowfat or skim milk)
3 egg yolks, slightly beaten
3 tablespoons butter
2 teaspoons vanilla
4-5 oz. cut-up unsweetened chocolate (depending on how deep of a chocolate you prefer)
whipping cream (optional)
chocolate for shavings (optional)
Instructions
In a double boiler over (not in) boiling water, combine sugar, flour, salt, chocolate, and milk.
Cook until thickened (20-30 minutes), whisking often to prevent lumps. [If you do not have a double boiler, you can use a heatproof glass boil set over a pot filled with an inch or two of water.]
Remove the chocolate mixture from the heat.
Pour a cup of the chocolate mixture into a bowl with the egg yolks. Stir the egg yolk mixture until smooth and well mixed with the chocolate.
Pour the egg yolk mixture into the chocolate mixture.
Cook the chocolate mixture in the double boiler over (not in) boiling water until further thickened (about 5-10 minutes).
Remove mixture from heat. Add butter and vanilla whisking until the butter melts.
Cool slightly (about 10 minutes) before pouring the chocolate mixture into the pre-baked pie crust.
When the pie is completely cooled, top with whipping cream and chocolate shaving, if desired.
Crust
Use any crust recipe that you like. Pre-bake and cool the crust before filling. If you prefer, purchase a pre-made pie crust. Pre-bake it and cool it before filling. A purchased graham cracker crust also works well. However, be sure to buy a large one because this recipe makes too much filling for the small graham cracker pie crusts.
© 2013 FoodieOasis