Bobby Flay's Mesa Grill in NYC—Yes, really!
I was in New York City recently and was excited when I realized that it was Restaurant Week in Manhattan! What a great surprise. I had the opportunity to dine at Beccco (lunch), Mesa Grill (dinner), and Butter (dinner). (See other posts for Becco and Butter under the experiences tab). All three were great experiences that I get to share here. Needless to say, I ate way too much during this day-and-a-half, but every bite was worth it! The down side was that J was not there to share it with me.
As background, I should share with you that I am big fan of the Food Network and many of its chefs, including Bobby Flay. In my dreams I try out for the Next FoodNetwork Star, but of course, that is in my dreams rather than my reality. We all need dreams though, right?
My Texas roots mean that I love spicy, Mexican-inspired foods and am drawn to Bobby Flay's creative use of chiles, so I have always wanted to try one of his restaurants to see if it lived up to my expectations. It did!
While Mesa Grill offered a special Restaurant Week menu, I decided to order off the regular menu because several items caught my attention. I started with one of the appetizers—Shrimp and Roasted Garlic Corn Tamale with Fresh Corn and Cilantro Sauce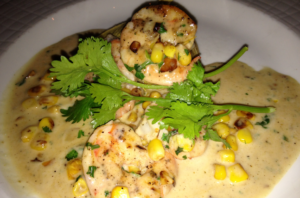 The picture doesn't do it justice. Two large shrimp hide a corn tamale that is sitting in a pool of creamy corn and cilantro sauce. The roasted corn added depth and sweetness to the sauce that balanced its richness. Overall, the flavor and texture combination was a real winner.
I was surprised at the size of the appetizer serving. Under normal circumstances (i.e., if this was not my first visit to Mesa Grill and/or I could go back soon to try other dishes), I could have easily added one of the sides and made this a meal. But this was my chance to taste the food designed by one of my fav chefs, so I made the sacrifice and kept eating 🙂
I gave in to my love for chile rellenos and ordered the Cornmeal Crusted Chile Relleno. It was filled with roasted eggplant and manchego cheese and was served with a vibrant, sweet red pepper sauce that was accented with balsamic vinegar. As you can tell from the picture, the plating was spectacular. This was the most visually impressive dishes that I had during my New York eating adventure. And the flavors lived up to the presentation. The roasted eggplant and cheese made for a filling that had the perfect soft texture and tangy flavor to offset the crunchy coating of the green chile. The red pepper and balsamic sauce put it over the top in my book.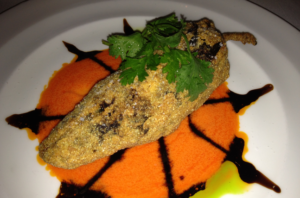 This was so good that when I got home, I looked to see whether the recipe is posted on foodnetwork.com—it is! You can find the recipe at
http://www.foodnetwork.com/recipes/bobby-flay/eggplant-and-manchego-filled-chile-relleno-with-red-pepper-balsamic-sauce-recipe/index.html
I can't wait to try it at home. Look for a future post. I will let you know how it turns out.
I didn't really need a side dish, but I thought I should try something, so I went for the Double-Baked Potato. I never seem to grow tired of potatoes. Mom says that I get that from my Dad—probably so, he loved potatoes too. This version was stuffed with horseradish and green onions and served with a side of creme fraiche. I would have liked a little more horseradish (remember, I really like spice), but I suspect that most diners would not change a thing about it.
I couldn't resist dessert, particulalry when my server told me that the Deep Dish Banana Cream Pie with Praline Wafer and Hazelnut Brittle was one of her favorites. I don't remember the last time that I had banana cream pie, but the idea had that comfort food feel to it, so I took her advice.
When I hear banana cream pie, I think of a crust lined with freshly sliced bananas, filled with vanilla custard, and topped with whipping cream. In other words, my mom's version. But Mesa Grill's "pie" is not really a traditional pie. Instead the custard formed the base. Then they topped it with fresh, sliced bananas, whipping cream and a praline wafer. If you think of the wafer as the crust, you might consider this an upside down and/or inside out banana cream pie. It was perfect for me because I am all about the filling when it comes to pies, and boy was this filling awesome! Rather than a plain vanilla custard with sliced bananas, the custard itself was infused with mashed, and perhaps caramelized, bananas, which meant that it did not rely solely on the sliced bananas for its flavor. If you make it to Mesa Grill, save room for dessert.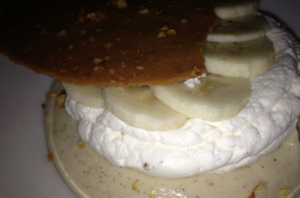 As you can imagine, I was stuffed by the time I made my way through this menu. I look forward to going back with J next time that we both get to New York at the same time. Mesa Grill will definitely be on my repeat list.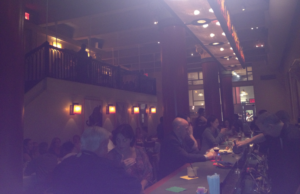 © 2013 FoodieOasis