Southern Cornbread Blog Party!
The Southern Cornbread Blog Party was a big success. We asked our guests to bring their favorite dishes that go with cornbread. That resulted in an awesome dinner. We had two types of fantastic chili, a yummy casserole, delicious chicken and sausage gumbo with rice, pork shoulder simmered with salsa verde, and creamy pinto beans (my mom's recipe).
We tasted 4 recipes for Southern Cornbread. There was a real split in the votes with three of the four garnering most of the thumbs up!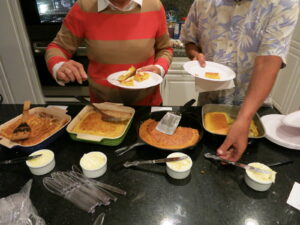 The 4 recipes tested several tradeoffs including:
Should you use buttermilk or whole milk?
Does sour cream make a more tender cornbread?
Does boiling hot water help the cornmeal absorb the liquid and flavors?
Should you use a cast iron skillet or a buttered baking dish?
Which is better—bacon drippings or melted butter?
Or does a Texas cornbread mix offer an acceptable option?
The results will follow in the next post along with recipes under the recipe tab! You may be surprised, so stay tuned.
© 2013 FoodieOasis