Servings: 4
Ingredients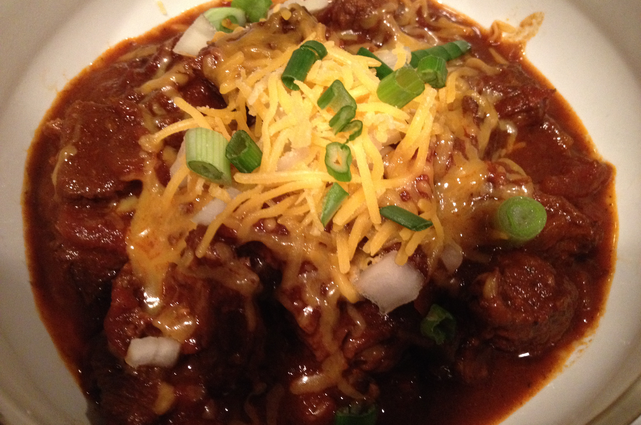 2 lb chuck roast, cut into 3/4 inch cubes
1 onion, preferably a sweet onion, chopped
4 cloves garlic, minced
1 14 oz. can diced tomatoes
1-2 Tbsp. Ancho chili powder
1-2 Tbsp. Chiptole chili powder
1 1Tbsp. Cumin
1 jalapeno pepper, seeded and finely chopped
1 Tbsp. Tomato paste
3/4 cup white wine or water for deglazing
1 1/2 cups beef stock
2-3 cups beans (pinto beans, black beans, etc.), optional
3 Tbsp. Vegetable oil Salt and pepper
Chopped onions, chopped scallions, and grated cheddar cheese for garnish
Instructions
Heat 1 1/2 Tbsp. oil in dutch oven.
Brown cubed beef in dutch oven in 2 or 3 batches.
Add oil, if necessary, between batches.
Do not crowd the meat.
Remove the meat and set aside. Saute onion until tender and slightly browned. Add garlic and saute for 1 to 2 minutes.
Add the chili powder (vary amount according to how spicy you like your chili), cumin, jalapeno, and tomato paste.
Saute for 1 to 2 minutes.
Deglaze the pan with the white wine or water.
Bring the liquid to a boil and scrape the bits off the bottom of the pan.
Turn the heat down to a simmer and add the diced tomatoes and beef broth. If you like beans in your chili, add them along with the tomatoes and broth.
Cover and simmer for 1 to 1 1/2 hours, stirring occasionally.
Serve garnished with chopped onions, chopped scallions, and grated cheddar cheese.
© 2014 FoodieOasis