Texas Traditions Are Fading
J and I are back in Texas for a visit to the University of Texas at Austin. We were invited to a reunion because UT is about to tear down the ENS engineering building where we met and studied for so many days and nights in college. It was old and not so attractive (the hallway walls were covered in what everyone referred to as "bathroom tile") even when we were there. In fact, the tiles were so infamous that they handed them out as momentos of the occasion!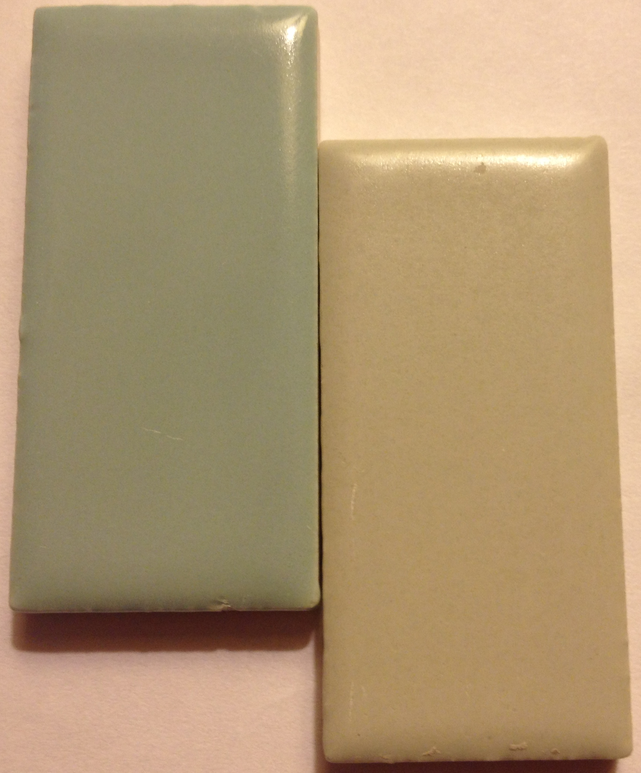 As you can tell, it is well past time for a contemporary. new facility. But you have to admit, it is weird to think of the building you practically lived in at college disappearing in a cloud of dust! As you can imagine, it put me in somewhat of a sentimental mood and brought back memories of times past and old traditions from my days in college.
However, the disappearance of our building is only one of the fading traditions that we are encountering on our visit home. I don't know about you, but a lot of my memories seem to involve food :). That meant that I had quite a few restaurants and foods that I did not want to miss on our visit. When we arrived on Friday, we headed to the first one on my list—Trudy's Texas Star by campus. I was happy to see that they still had my favorite TexMex dip on the menu. Within minutes, they placed a bowl of Chili Con Queso Especial in front of us. Prepare yourself—it will sound like a strange combination. But trust me, it is luscious and delicious when scooped up with a thin, crisp tortilla chip. This queso starts with a small scoop of homemade guacamole on the bottom of the bowl. Then they pour warm chili con queso on top (think warm, spicy cheese dip if you haven't had it before). It is topped off with a small scoop of homemade pico de gallo with fresh tomatoes, onions, cilantro, and serrano or jalapeno peppers. Of course, now you are waiting to scroll down to the picture, right? Well, I was so anxious to dip into this concoction from my past that I forgot to take a picture. Oh well, I will have to go home and recreate this food memory, so that I can post a picture. Stay tuned.
Even Trudy's had changed though. This old-fashioned TexMex restaurant now has what they are calling a juice bar and a whole variety of non-TexMex choices. We waded through several menu pages before finding the enchiladas and fajitas. Time moves on.
Yesterday, we decided that we really needed some fruit cobbler, preferably blackberry, but most any kind would work. That turned out to be hard to find. We ended up at one of our old favorite BBQ joints where we shared some blackberry cobbler. It was yummy, but we both agreed that it too had changed.
On our last day in Austin, it is time to find a true Texas tradition—chicken-fried steak with cream gravy. That has been a staple in the state for decades, so it should have been easy to find a good one, right? Wrong. It has practically disappeared from the landscape in the mainstream restaurants having given way to trendier, healthier options. It is funny that I found this sad, because my eating and cooking preferences have moved on too. I guess in my sentimental mood, I am just longing for some old-fashioned comfort food. Our goal was to ferret out one of the remaining old-school places for lunch. That led us to Hyde Park Bar and Grill, which is located in an older, local neigherborhood. What once must have been someone's home, is now a restaurant that is serving slighty modernized versions of the classics.
While once I would have devoured an entire steak myself, this time J and I shared one—all things change with time. But we enjoyed every bite of the chicken-fried steak smothered in cream gravy.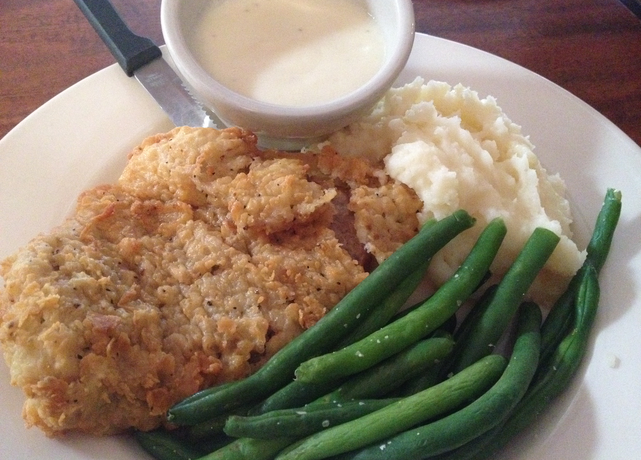 We can't leave out the sides of crisp green beans, mashed potatoes, and jalapeno cornbread to round things out.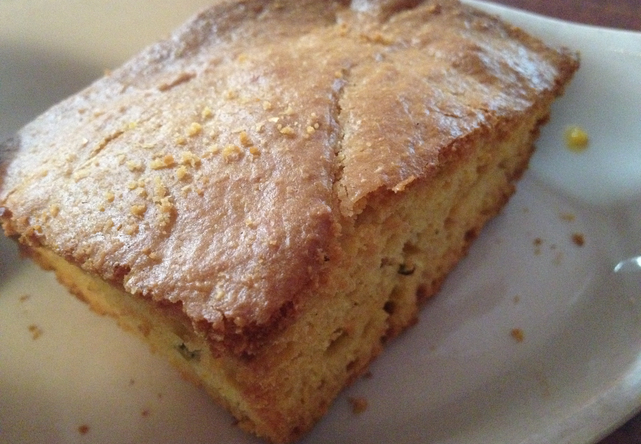 While traditions may be fading—and perhaps, some should—good food remains a comfort along the way.
© 2014 FoodieOasis