Ciabatta, Sausage and Mushroom Dressing (aka Stuffing)
Ingredients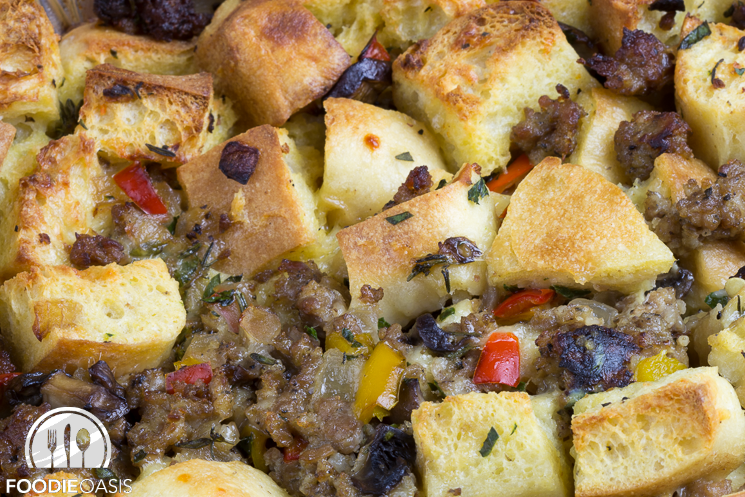 1 lb. Ciabatta bread, cut into ¾ inch cubes
12 oz. sausage (remove casings)
8 oz. cremini mushrooms, quartered and sliced
1/2 large onion, chopped
3/4 cup chopped bell pepper (preferably red, yellow, or orange)
1 Tbsp. fresh parsley, chopped
1 Tbsp. fresh thyme, choped
2 cloves garlic, minced
1/2 cup grated parmesan cheese
1 1/2 cups low sodium chicken, turkey, or vegetable stock or broth
1/2 cup cream
3 eggs
2-3 Tbsp. butter
Salt and pepper to taste
Instructions
Preheat oven to 325 degrees.
Place sausage in a frying pan and cook until done. Break the sausage apart with a spatula as it cooks.
Transfer the cooked sausage to a large mixing bowl.
Melt 2-3 Tbsp. butter in a frying pan. Add the mushrooms, bell peppers, and onion. Add salt and pepper (about 1 tsp. each or more to taste). Cook until the vegetables are tender.
Add the minced garlic and saute until aromatic (about a minute).
Transfer the vegetables to the mixing bowl with the sausage. Stir to combine.
Add the bread, parmesan cheese, parsley, and thyme to the mixing bowl and stir to combine.
Which together the broth, eggs, and cream. Add the liquid to the bread mixture, along with another teaspoon of salt and teaspoon of pepper. Gently stir the mixture to moisten the bread.
Transfer the dressing to a buttered baking dish and let it rest for 30-45 minutes to allow the bread to absorb the custard-like liquid.
Cover the dish with foil and bake covered for 30 minutes. Then uncover it and bake it for another 15 minutes.
© 2014 FoodieOasis