Texas Sheet Cake Brownies
Growing up in Texas, one of my earliest memories of food was a neighbor's amazing chocolate cake with fudge—yes, fudge—icing. I still remember visiting her when I was three or four and eating two huge pieces of this cake! She called it 22-minute cake because it is quick and easy to make, but the results are more than amazing and completely decadent. When I got older, I learned that others in Texas call this and similar recipes Texas Sheet Cake. The cake has a yummy chocolate layer, not too thick, made in a 13 x 9 inch pan. But the real decadence comes from the icing, which is a layer of fudge with pecans (think candy). Fortunately, our neighbor gave Mom the recipe, so I have always had a copy.
Somewhere along the way, I decided to replace the cake layer on occasion with a layer of brownies. You can use your favorite recipe for the brownies or just use a box mix (we all need our shortcuts). The mixes with chocolate syrup work well. Bake the brownies, and when you take them out of the oven, it is time to make the icing. First, melt a stick of butter (it is a Southern recipe) in a saucepan. Then add 1/3 cup of milk and 2 1/2 tablespoons of cocoa to the melted butter. Bring it to a boil. Remove it from the heat and add one pound of powdered sugar and 1 cup of chopped pecans. Quickly stir the mixture to combine the powdered sugar and nuts with the chocolate liquid to create fudge. Then pour the warm fudge over the warm brownies.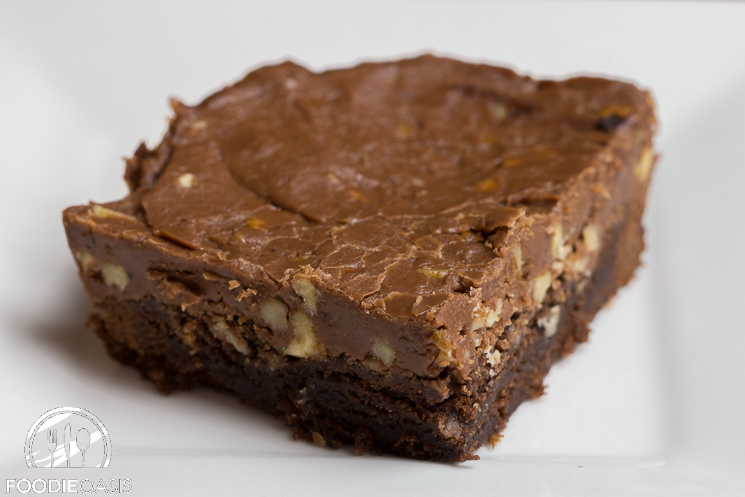 It will set up quickly. Then you will have a two-layer dessert fit for company—one layer of soft, gooey brownies covered with a second layer of fudge. (Note that I made this batch in a slightly smaller pan, so the fudge layer is even thicker.) Grab a glass of milk and enjoy! Then decide if you are really going to share it with company or hide it for yourself…
© 2015 FoodieOasis