Mini Raspberry and Cream Tarts
I gave Jeff a really nice bottle of wine for his birthday (meaning I spent way more than I usually would for a bottle of wine), along with a promise to cook him a special dinner to go with it. Now it was time to come up with the right dessert that he would love, so I decided to combine three things I know Jeff likes: chocolate, cream filling, and fresh raspberries.
Individual desserts seem more special, so I found my small tart pans (about 5 inches across). Then I made some plain and chocolate sugar cookie dough—what better for a crust than a cookie, right?!
Click here for the sugar cookie recipes.
The next step was to roll out some of the cookie dough and press it into the tart pans.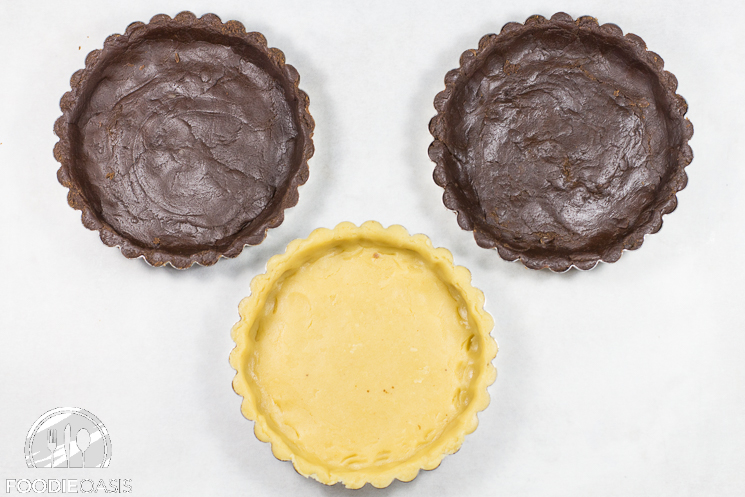 Time to bake the "cookies" for 12-15 minutes. To let some steam escape as the cookie crusts baked and keep them from puffing up too much, I used a fork to poke a few holes in them. The thickness shown above made a fairly thick cookie crust. If you want less cookie and room for more filling, then roll the dough a little thinner than shown above and bake the cookies for a shorter time.
Now for the filling. Think creamy custard like you find in the eclairs and napoleons. Yummy, right? Right! So I made a simple vanilla cream filling. In a double boiler, I combined flour, sugar, and milk. After the custard thickened to a pudding-like consistency, I mixed a little of the custard with eggs yolks to temper them (prevents scrambling the eggs) and then poured the egg yolk mixture into the rest of the custard. Time for more whisking until the custard thickened more. Then I removed the custard from the heat and added vanilla extract and butter for an extra richness.
Click here for an easy pastry cream recipe.
Once the custard cooled, it was time to fill the cookie crust! I layered beautiful fresh raspberries on top and sprinkled the tart with a little powdered sugar—just enough so that it looked snow capped.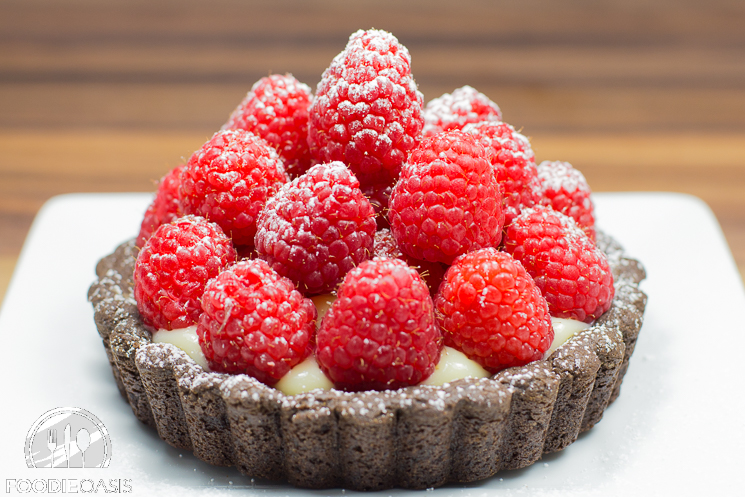 Since this was a special dinner, I decided to also add a chocolate heart on top. These are easy to make. You just need some chocolate (preferably not chocolate chips), parchment paper, and a plastic zip top bag. Start by melting a little chocolate in the microwave on half power. Stir it after every 30 seconds. When the chocolate is just melted, add a little more chocolate and stir it until it melts completely. Place the chocolate in the zip top bag and cut off a small corner. Then pipe the chocolate onto the parchment in whatever shape you like. Don't make the lines too thin or they will break when you try to remove the chocolate from the parchment! Also, make extras to be sure you have enough because no matter how careful you are, some will break. Refrigerate the chocolate shapes until you are ready to serve your dessert, then use a spatula to carefully remove the chocolate from the parchment and gently place the chocolate on your dessert.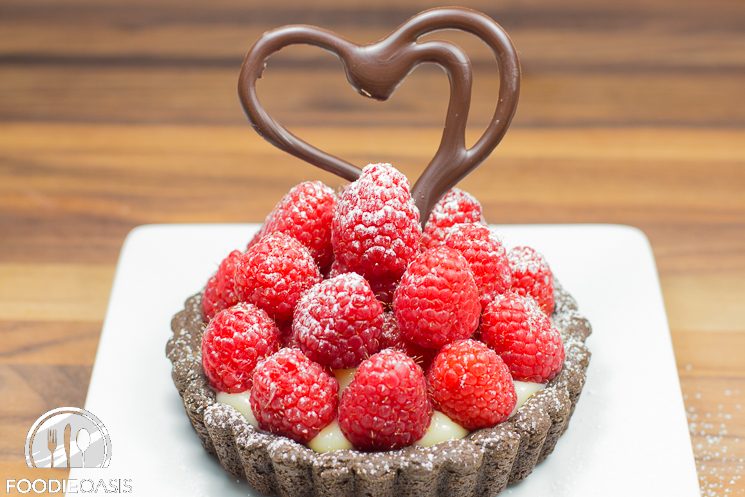 The next step was the hardest part—we had to wait until after dinner to dive into this dessert!
© 2015 FoodieOasis