Easy Raspberry Nutella Meringue Cookies
Ingredients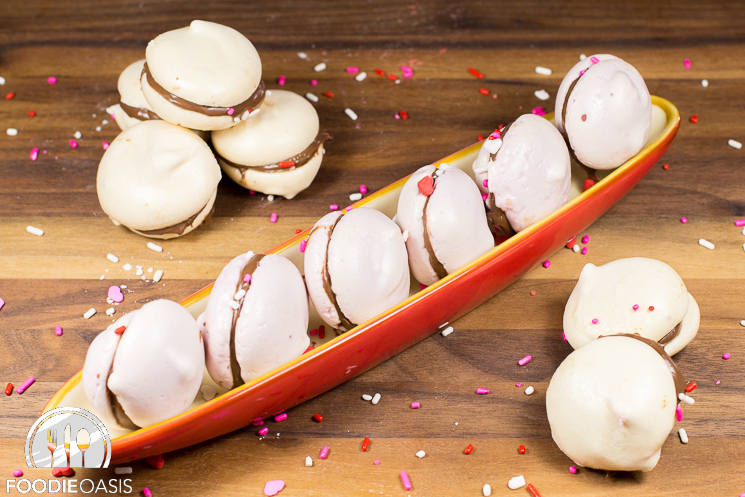 2 egg whites
2/3 cup sugar
2-3 Tbsp. raspberry juice from 1 cup frozen raspberries (optional)
1/3 cup Nutella (chocolate hazelnut spread)
Instructions
Preheat oven to 350 degrees F
Thaw the raspberries and place them in a fine mesh strainer. Place the strainer over a bowl. Using the back of a spoon press the raspberries to release their juice.
Beat the egg whites until stiff peaks form and they glisten
Gradually add the sugar and continue beating the egg whites until the sugar is incorporated
If you want raspberry cookies, add the raspberry juice (optional) and beat until combined.
Place the egg white mixture in a piping bag. Pipe small circles, about 1 inch in diameter) of the egg white mixture onto a parchment lined baking sheet. Use your finger to even out the circles and create an even thickness.
Place the meringue cookies in the oven and turn the oven off.
Leave the cookies in the oven at least 3 hours, overnight is even better, to let the meringue cook and dry to a nice crispy texture. DO NOT OPEN THE OVEN UNTIL THEY ARE DONE!
When the cookies are ready, spread a small amount of nutella onto the flat side of a cookie. Then form a sandwich by placing the flat side of another cookie on top of the nutella.
Note: You can freeze leftover cookies. Just take them out of the freezer a few minutes before you want to serve them to let the nutella soften.
© 2015 FoodieOasis