Copper River Salmon with Lemon and White Wine Sauce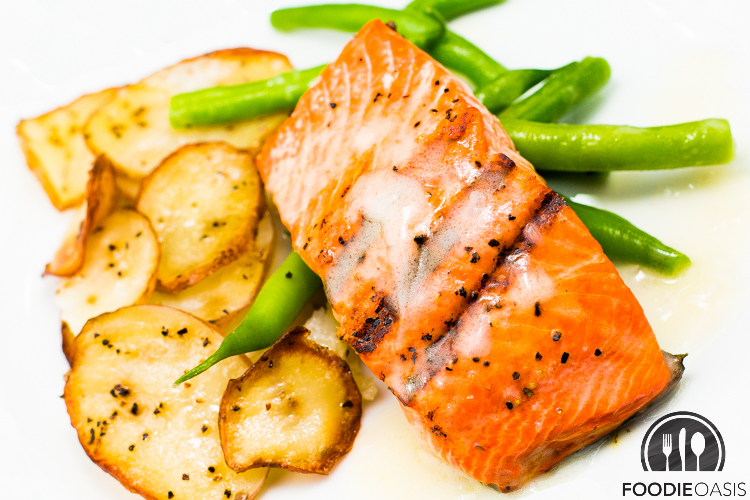 This recipe works with any salmon filet, but Copper River salmon is extra special. A few years ago, I happened to be in Seattle during the short period of time that Copper River salmon was fresh, which is only from about mid-May through mid-June each year. But I had no idea what a huge deal Copper River salmon was to the Pacific Northwest (think Celebration Time!) nor did I know what a treat I was about to experience. Fortunately, someone I was working with introduced me to this delicacy and some of its history. It turns out that the Copper River is an extremely swift and rugged river in Alaska that is almost 300 miles long and empties into Prince William Sound at Cordova. The salmon that swim in these waters grow strong and develop large stores of healthy oil and fat to survive the frigid and strong rapids they must traverse. The result is lusciously rich and flavorful salmon that are high in Omega-3 oils, which are really good for us. While this salmon has a hefty price tag, it is worth it for this once-a-year, special treat. So when I found some Copper River salmon on sale at the market, I couldn't resist bringing some home. I like to keep the preparation fairly simple so the salmon's flavor shines through, so I grilled the salmon and topped it with an easy lemon, butter and white wine sauce. But if you have missed the window to get Copper River salmon this year, mark your calendar for next year and in the mean time try this recipe on whatever type of fresh salmon filets you can find at your fish market. Ingredients 4 Copper River Salmon Filets (4 oz. each) 1 Tbsp. Vegetable oil Salt Pepper Juice of 1/2 lemon 1 shallot, finely chopped 2 Tbsp. butter 1/2 cup white wine 2 tsp. flour Instructions
Heat a grill pan (or your outdoor grill).
Brush both sides of each salmon filet with oil. Then sprinkle the filets with salt and pepper.
Place the fish on the grill, skin side up. Grill for 2-3 minutes, depending on the thickness of the filets. Do not overcook!
Flip the filets and grill for 2-3 minutes with the skin side down. Of course, you can vary the cooking time according to your own preferences.
Sauce
While the salmon is cooking, melt the butter in a small skillet medium heat.
Add the shallots and cook for 1-2 minutes until softened.
Sprinkle the flour over the shallots and whisk to combine. Cook about 2 minutes but do not let it brown. Turn the burner down to medium-low, if necessary to prevent browning.
Whisk in the wine, lemon juice, and a pinch of salt. Cook 2-3 minutes until it reaches the desired consistency. It should be thickened but still the consistency of a spoon-able sauce.
Spoon a little sauce over each salmon filet and serve immediately.
© 2015 FoodieOasis