Baked Corn and Zucchini—aka Baked CornZini
Jeff's mom used to bring this cheesy, soufflé-like corn and zucchini to family gatherings when we were first married.  When I thought of it recently, I realized that I didn't have the recipe, but fortunately, my sister-in-law Debbie did.  I couldn't wait to make it to see if it lived up to my memories—it did!  Jeff loved it too and decided we should call it Baked CornZini. 🙂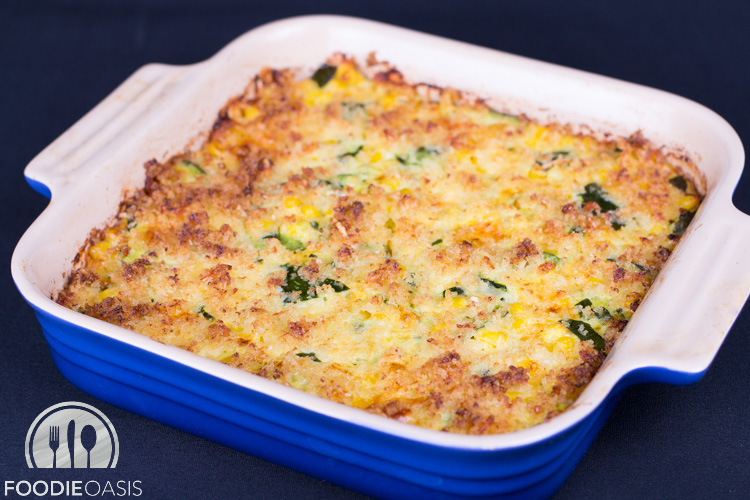 It is easy to make, great for groups, and a hearty vegetarian option.  Just start by cutting the zucchini into 1 inch thick slices. Place the zucchini in a sauce pan with water and a little salt.  Then cook it for about 15 minutes over medium heat until the zucchini is just tender.  It is ready when a fork can be easily inserted into it.
The next step is important if you don't want a soupy mess, so don't skip it.  You need to thoroughly drain the squash to get rid of the water and then gently mash it with a fork or potato masher.  After mashing the squash, drain it again to make sure there is no excess water remaining.  I just left the mashed zucchini in a mesh strainer sitting over a bowl while I sautéed chopped onions in a tablespoon of butter.
When the onions were tender, but not browned, I gently combined the eggs, zucchini, chopped onions, corn, cheddar cheese and a little salt and poured the mixture into a buttered baking dish.
Now for the crunchy, parmesan topping!  Combine melted butter with Panko breadcrumbs and grated Parmesan cheese.  Then sprinkle the breadcrumb mixture over the top of the corn and zucchini mixture.  After about 35-40 minutes in a 350 degree F oven, it should be ready.  You can test it by inserting a knife into the middle.  If the knife comes out clean, then it is ready.
From the crunchy parmesan, breadcrumb topping to the cheesy corn and zucchini filling, it has the perfect combination of crunchy and fluffy textures.  You will definitely be going back for seconds, so think about making a double recipe!

Baked Corn and Zucchini (CornZini)
Author:
FoodieOasis | Jo Dale Carothers
Recipe type:
Vegetable Side Dish
Ingredients
1 lb. zucchini
¼ cup onion, chopped
3 Tbsp. butter
2 eggs, beaten
2 cups fresh corn or 10 oz. frozen corn (thawed and drained)
4 oz. cheddar cheese, grated
¼ cup Panko breadcrumbs (or other dry breadcrumbs)
2 Tbsp. Parmesan cheese, grated
½ cup water
¾ tsp. salt
Instructions
Preheat oven to 350 degrees F.
Use 1 Tbsp. of butter a baking dish.
Cut zucchini into 1 inch thick slices.
Place zucchini in a sauce pan. Add ½ cup water and ½ tsp. salt.
Cook over medium heat until tender, about 15 minutes.
Drain the zucchini and place it in a bowl. Using a fork or potato masher, gently mash the zucchini.
Saute the onion in 1 Tbsp. butter until tender but not browned.
Gently combine eggs, zucchini, onion, corn, cheddar cheese and ¼ tsp. salt.
Pour the mixture into the buttered baking dish.
Melt 1 Tbsp. butter.
Combine the melted butter with the bread crumbs and parmesan cheese. Sprinkle the breadcrumb mixture over the top of the zucchini mixture.
Bake zucchini until a knife inserted into the center comes out clean. About 35-40 minutes.
Let the zucchini rest for 5-10 minutes before serving so it will set up.
© 2016 FoodieOasis