So are you looking for ideas for how to use the Gremolata recipe I posted a few days ago?  Here's what I made with it—Easy Fresh Pan-Seared Scallops.  I know, fresh scallops are a little pricey, but I wanted to make a special dinner for Jeff, and after all, they are a low fat, high protein option, which makes them a healthy choice for the new year (you can hear me rationalizing, right?).  But you can substitute thawed, frozen scallops, which are a little less expensive or save this recipe for a day you find fresh scallops on sale.
I patted the scallops dry and sprinkled them with a little salt and pepper.  Then it was time to get out my cast iron skillet, which is perfect for pan searing.  I put a couple of tablespoons of canola oil in the skillet and turned it to between medium high and high heat and waited for the oil to start smoking a little.  That meant the skillet was hot enough and ready for the scallops, so using a pair of tongs, I gently placed each scallop in the skillet.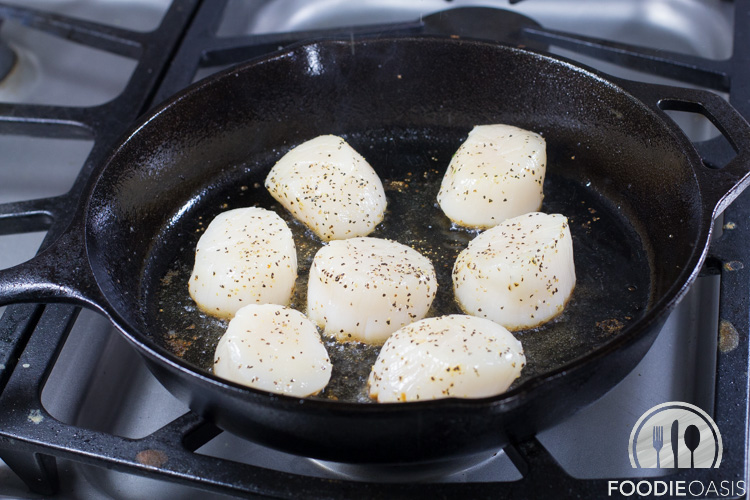 It is really important not to move them until they are browned.  Depending on the size of the scallops, it will take 1 1/2 to 2 1/2 minutes.  It also depends on how done you like them, but be careful not to cook them too long.  No one likes rubbery scallops!  You can see the scallops are starting to brown on the bottom.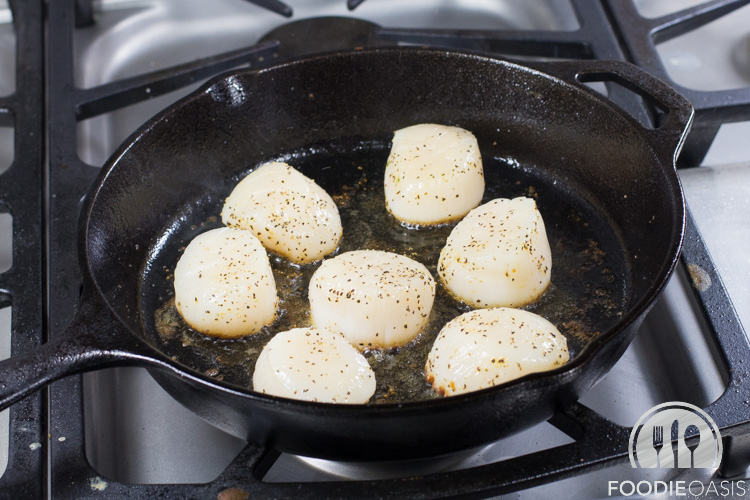 Just a few seconds longer and it was time to turn them.  Tongs are a great tool for turning the scallops, but you can use a spatula.  Another 1 1/2 to 2 minutes and these will be ready to eat!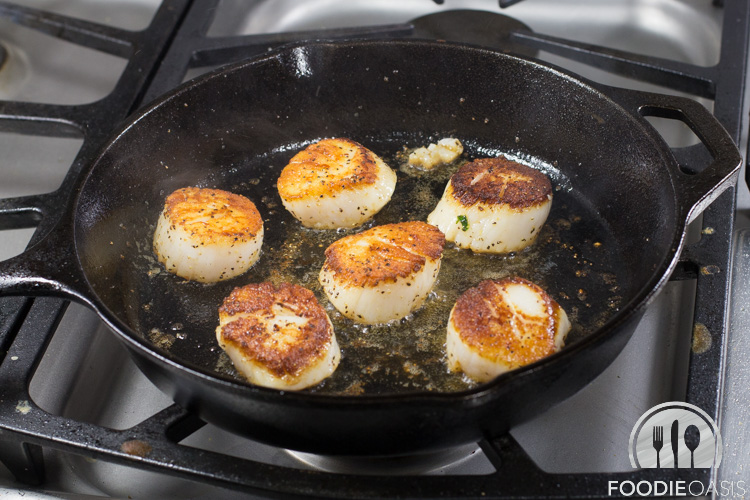 Now it is time for the Gremolata, which is an herb-based condiment.  I made this version with cilantro and lime zest instead of the traditional parsley and lemon.  For the Gremolata recipe,  click here.  It is really simple and quick to make but will dress up these pan-seared scallops.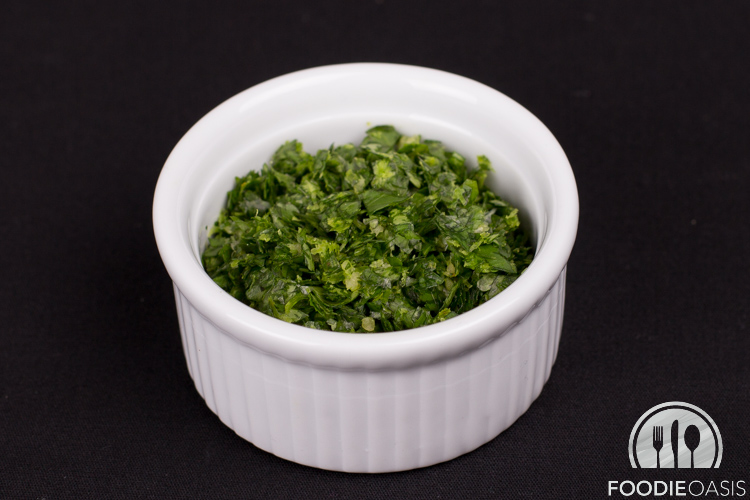 Just a little sprinkle of this garlicky cilantro gremolata will transform these simple pan-seared scallops into a meal fit for royalty!  Jeff's comment was that they were perfectly seasoned.  That put a smile on my face!
For an Asian-inspired version of scallops, you may also want to try the recipe for Seared Sea Scallops with Sesame-Cilantro Gremolata on the Fine Cooking website . Click here for the Fine Cooking recipe.
Here's to more healthier, delicious and unforgettable meals this year with a few (maybe more than a few) indulgences along the way!
© 2016 FoodieOasis