Home
Cooking Blog
Ingredient Challenge: Use Fresh Beets This Month & Post a Photo!
Ingredient Challenge: Use Fresh Beets This Month & Post a Photo!
I am so excited about this new category of posts to start 2016!  It is a challenge for you and me.  Use fresh beets in at least one meal before midnight Pacific time on February 15, 2016 and post a photo in the comments section below or email your photo to me—-jodale@foodieoasis.com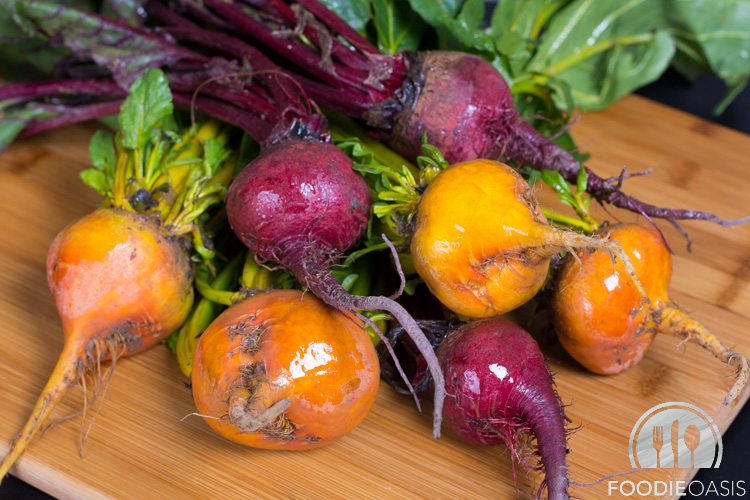 I can't wait to see how you use beets this month.  You can use baby beets, large beets, red beets, yellow/orange beets or any other kind you can find at the farmer's market or the store.  You can use them raw or cooked.  If you cook them, you can sauté, roast, or boil them or prepare them any other way you can think of.
And don't forget that the beautiful beet greens are great too!  You can chop them up in a salad or sauté them with some seasonings like you would spinach!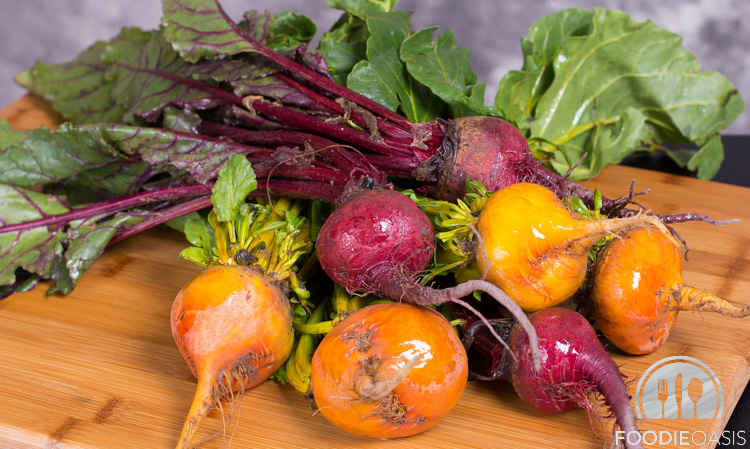 While beets have gained in popularity, they are still not part of our meals as often as other root vegetables, such as potatoes and carrots.  That is probably because, for many of us, our first introduction to beets was the mushy canned version, which led a lot of people to just avoid the fresh version thinking they will be the same.  So not true, but that is why it takes some creativity for me to get Jeff to eat them :).
So do you accept the challenge to Use Fresh Beets This Month & Post a Photo?   I hope you do because not only will it be fun but also because beets offer a lot of health benefits for the calories and are such tasty vegetables when prepared fresh!  You won't even remember the canned ones…  According to the USDA, a cup of raw beets contains less than 60 calories and is packed with nutrients.  For example, they are a source of fiber, folate (vitamin B9), manganese, potassium, iron and vitamin C.  For more info, click here for the USDA site.
Go traditional or be creative—just make sure to grab your phone and take a photo!  I will post Beets My Way at the end of the challenge, along with some of the photos you send me (so don't send a photo unless you are ok with me posting it).  And don't worry if you aren't a photographer, we want to see your photos regardless.   Get cooking and have fun with this new challenge!
© 2016 FoodieOasis