Home
Cooking Blog
Party Favorites: White Cheddar Pecan Wafers & Chocolate Rum Balls
Party Favorites: White Cheddar Pecan Wafers & Chocolate Rum Balls
You may want to include these White Cheddar Pecan Wafers and Chocolate Rum Balls from our last-minute, end-of-2015 holiday party at your Super Bowl Party this year.  They are both easy and always a hit with our friends.
The idea behind our "last minute" party on December 27 was that the stress of getting ready for Christmas was behind us, and it could be more casual and a little simpler.  So I took advice from one of my favorite Food Network celebs, Ina Garten, and bought some of the food (spiral sliced ham, pre-cooked shrimp, cheese and crackers, olives, etc.) and made some of the food.  I also made sure that most of the things I wanted to cook could be done a day or two in advance, such as the chocolate rum balls and white cheddar pecan wafers.  We all had a great time, and I promised to post the recipes for the chocolate rum balls and the white cheddar pecan wafers, so here they are.  Since casual, simple and make-ahead are perfect for the upcoming Super Bowl Parties, you may want to give these a try!
Chocolate Rum Balls
Whether you want your rum with a little chocolate or your chocolate with a little rum, these are fantastic!  As someone pointed out, they are more like a super moist cake than most rum balls so they make you want to close your eyes and quietly enjoy the perfect rum-laced bite of chocolate.  And don't forget the little crunch from the sanding sugar.  Yum!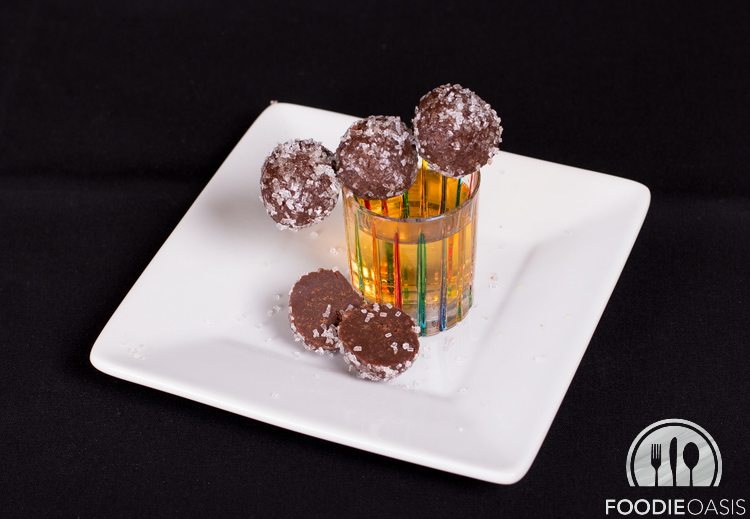 The secret to these is to use Martha Stewart's recipe!  These decadent little balls of pure joy consist of a buttery brownie cooled, crumbled and recombined with dark rum.  Then you roll them in sanding sugar or powdered sugar for the ultimate bite.  I follow her instructions to chill them, then I bring them back to room temperature before serving!  Click here for Martha Stewart's Chocolate Rum Ball recipe.
White Cheddar Pecan Wafers
Now for the white cheddar pecan wafers that have a little kick.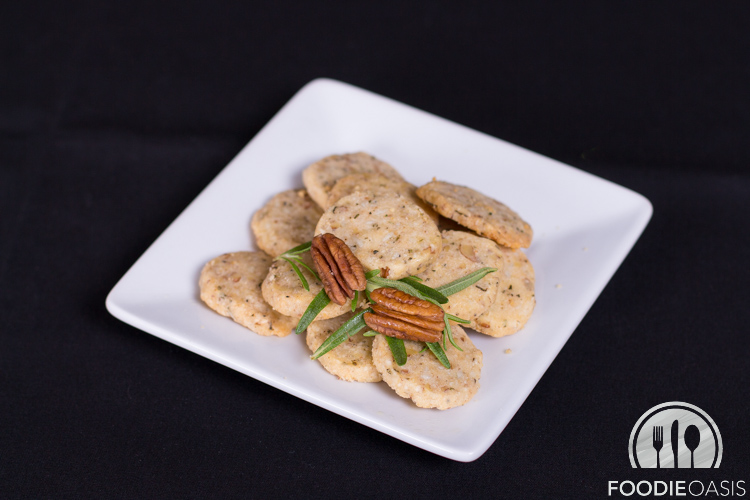 I have previously posted this recipe, but this time I made a couple of changes and updated the recipe.  I used white cheddar rather than traditional, orange cheddar, and I increased the cayenne pepper from 1/4 tsp. to 1/2 tsp.  Click here for the Cheddar Pecan Wafer recipe.  These are laced with finely chopped, fresh rosemary and pecans, which kicks them up a notch.  After a bite or two, you will probably be hooked.  They remind me of potato chips….I always want another one.  Enjoy!
© 2016 FoodieOasis