Roasted Tomatoes with Olive Tapenade
This easy, roasted tomato side dish is the perfect way to lighten up a meal while maximizing flavors with the addition of a little pre-made olive tapenade!
I was inspired by the adorable tomato-decorated dish (see photo below) that I found at our farmer's market weekend before last.  Even though tomatoes are not in season right now, you can still find them at the store and roasting them brings out sweetness and flavor even out of season.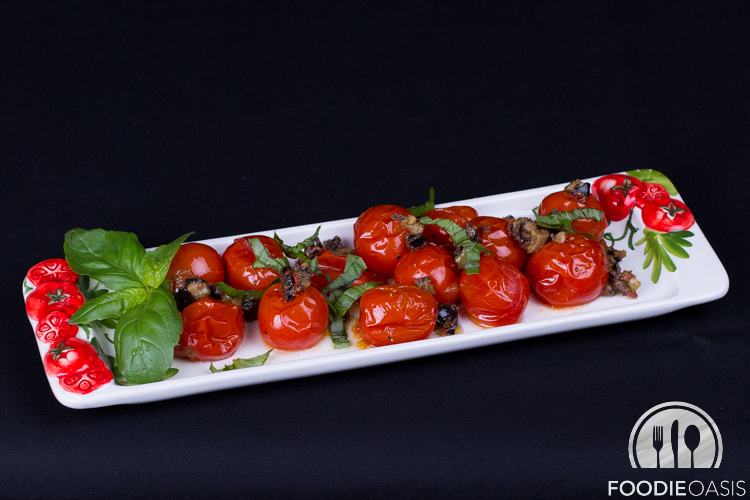 It is super easy to put together this side dish.  Start by preheating the oven to 400 degrees F.  Then place cherry, grape or other small tomatoes (the ones in the photo were called strawberry tomatoes) on a baking sheet and toss them with extra virgin olive oil and a sprinkling of salt and pepper.  Place them in the oven, and they will be perfectly roasted in 15 to 20 minutes, but watch them to make sure they don't burn or completely burst.  You want them to just barely start to crack open but not completely fall apart.
When they are just right, take them out of the oven and put them on a serving dish.  Then spoon a little olive tapenade on top.  I kept it simple by buying a fresh Mediterranean olive tapenade at the olive bar at our grocery store.  Then finish it with a little fresh, chopped basil, and it is ready to eat.
I know I said this was a lighter side dish, but you are probably asking what about the tapenade?  Simple.  Just don't use too much.  The goal is to accent the dish with the tapenade, not overpower it with olives.  After all, the tomatoes are supposed to be the star!  Besides, not only are olives delicious, but also olive oil is often considered the healthiest of cooking/eating oils because it has less saturated fats.  So use it for flavor but limit the quantity to keep the calories in check.
Enjoy!  By the way, I must confess that I ate the whole platter of these gems myself.  Next time I will have to make extra so Jeff can try them :).
© 2016 FoodieOasis