Easy Molten Chocolate Cake
Valentine's Day always reminds me of chocolate, so I thought today was the perfect time to share this  recipe for an easy molten chocolate cake that you can whip up tonight and impress the chocolate lover in your life.   I came up with this recipe for those nights when we are craving a chocolate dessert before bedtime and a warm gooey dessert sounds like the perfect comforting end to the day.  This recipe makes two servings, but you can double it for four.  For those friends who need/want a gluten-free version, I am posting that recipe separately.  It is amazingly yummy too.  I knew I had two winners when Jeff wasn't sure which was which in a side-by-side taste test of this recipe and the gluten-free version (see photo below).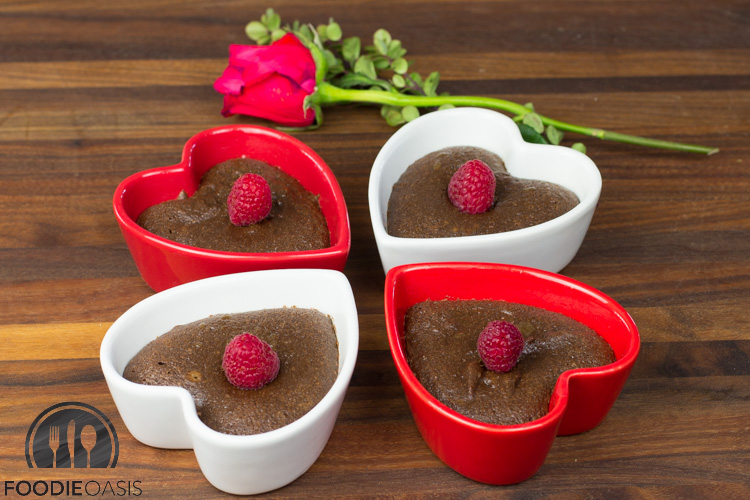 Start by chopping semisweet chocolate into small pieces.  It is important to use good quality chocolate bars rather than chocolate chips.  Chips have stabilizers that we don't want for the molten chocolate cake.
Place the chocolate and butter in a microwave-safe bowl.
I know my microwave pretty well, so I microwaved the chocolate and butter for 30 seconds and it was perfect.  (See photo below.)  The butter was melted, some of the chocolate was melted and the mixture was warm but not hot.
Once I stirred it for a minute or so, I had a smooth mixture with all of the chocolate perfectly melted.  However, microwaves vary a lot!  So the safer approach is to microwave the mixture for 30 seconds on half (50%) power.  Stir and repeat until you get a smooth chocolate mixture.  It is important for the chocolate not to get too hot because you don't want it to cook the eggs when you add them to it.
I set the chocolate aside to cool a little and broke an egg and egg yolk into a separate bowl.  Then I whisked the eggs a little to break up the yolks.  (If you aren't worried about bad eggs (rare) or getting egg shells (less rare in my case 🙂 ) in the mixture, you could save a bowl and put the eggs directly into the chocolate after the chocolate has cooled a couple of minutes.  But I always play it safe and use a separate bowl for the eggs.)
Now is time to finish the batter.  Combine the chocolate, eggs, flour and sugar in the bowl with the chocolate mixture.
Whisk the ingredients together.
Whisk just until the ingredients are all wet and combined.  Do not over mix.
Carefully divide the mixture between two baking cups.
Then place the baking cups on a small sheet pan.  (Below, I baked a gluten-free batch and this recipe at the same time)
Bake at 350 degrees F for about 17 minutes, then remove them from the oven and let them cool 2-3 minutes.  Serve (eat) immediately.
I hope you will try this recipe and post a comment below.  Enjoy!  Happy Valentine's Day!

Quick and Easy Molten Chocolate Cake
This amazing chocolate dessert looks impressive but can be prepared in just a few minutes with ingredients you have on hand. It is perfect for a romantic dinner for two or for a late night snack when the chocolate lover in your life says, "Do we have anything chocolate for dessert?"
Author:
FoodieOasis | Jo Dale Carothers
Ingredients
1 egg
1 egg yolk
3 oz. semisweet chocolate
2 Tbsp. plus 2 tsp. sugar
2 Tbsp. flour
1 Tbsp. butter
Raspberries for garnish (optional)
Instructions
Preheat the oven to 350 degrees F.
Chop the chocolate into small pieces.
Place the butter and chopped chocolate in a microwave-safe mixing bowl. Microwave it for 30 seconds at 50% power. Stir. Repeat the heating and stirring until all of the chocolate is melted after you stir it. You do not want the chocolate mixture to get too hot---just warm enough for the chocolate to melt.
Let the chocolate and butter mixture cool for 2-3 minutes to make sure it will not cook the eggs when you add them.
Place the egg and egg yolk in a bowl and whisk them quickly to break up the egg yolks.
Add the flour, sugar, and chocolate mixture to the eggs. Whisk gently until just combined.
Divide the chocolate batter between two individual baking cups (e.g., custard cups).
Place the custard cups on a small baking sheet.
Bake for about 17-18 minutes
Test with toothpick. The center should still be wet, but the edges should be cake-like.
Remove them from the oven and let them cool for 2-3 minutes.
Notes
If you bake the cakes too long or let them cool too long after removing them from the oven, the center will not be molten but will become more like fudge. Don't worry, they will still taste good! Because every oven is a little different, you may want to experiment with the baking time to get the center texture just like you like it. My husband loved these experiments!
© 2016 FoodieOasis