The Ultimate Super Bowl Dip—Taco Queso
Guacamole ("guac"), chile con queso ("queso") and pico de gallo are always must-have dips for football parties at our place.  Add taco meat, tortillas and tortilla chips and you also have the perfect taco and nacho bar for the game!  But the Super Bowl calls for taking it up another notch.  That means Taco Queso dip.  In other words, we are going to take all the good toppings for tacos and nachos and put them in the queso.  My mouth is watering just thinking about it.
It starts with a layer of melted queso, a layer of taco meat and then another layer of queso.  Top that with a big dollop of creamy guacamole and then spoon pico de gallo over the top.  All you need is a bunch of chips and you may even forget the game is on.  Just kidding, but really you will be lost in the ultimate comfort food.  You won't believe how extra creamy the guac makes the queso.  It is like tacos and nachos combined in one bowl.  But don't take my word for it.  Makes some for the game and watch it disappear.
Here's how to make it.  You can even take a couple of shortcuts and buy the pico de gallo and guacamole if you are short on time, but if you have time, make your own.
Let's start with the chile con queso.  You can use your crock pot to make the queso and then keep it warm during the party.  Just cut up the cheese into small cubes and put them into the crock pot.  If you want, you can add 1 to 2 ounces of cream cheese for each pound of Velveeta for another layer of creamy yumminess (is that a word?).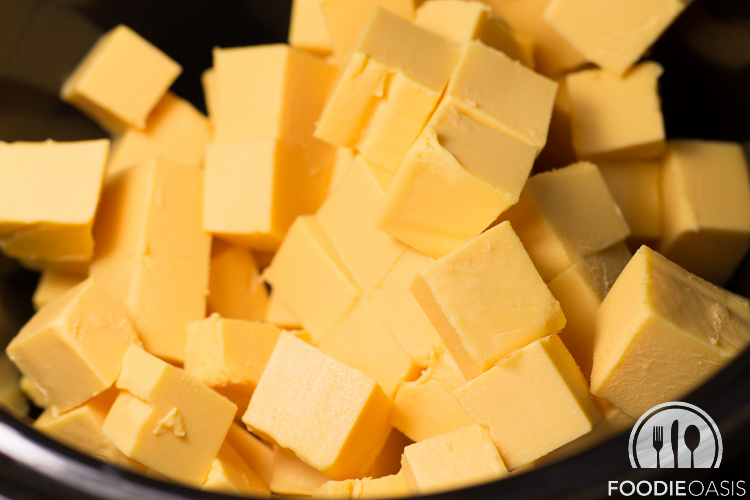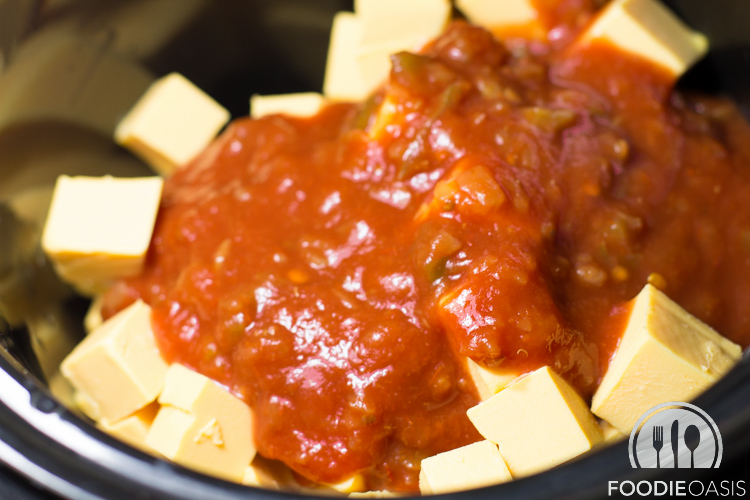 Use a large spoon to distribute the picante sauce throughout the cheese cubes then put the top on the crock pot, set it to low and let the mixture melt into gooey goodness.  (If you are in a hurry, start it off on high, but don't forget to turn it down as soon as the cheese is almost melted.)
While the cheese is melting, it is time to make the pico de gallo, guacamole and taco meat.
The pico is really simple, it just requires some chopping.  Start by chopping the tomatoes.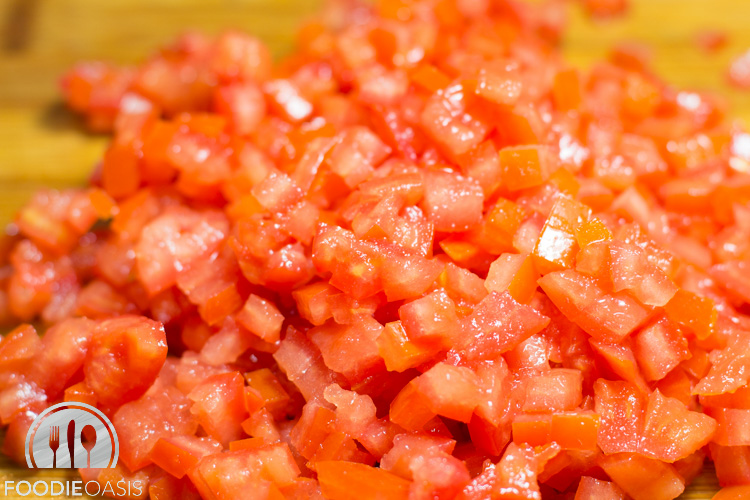 Then you need some chopped onions.  I like to use sweet onions.  They add onion flavor without overpowering the tomatoes.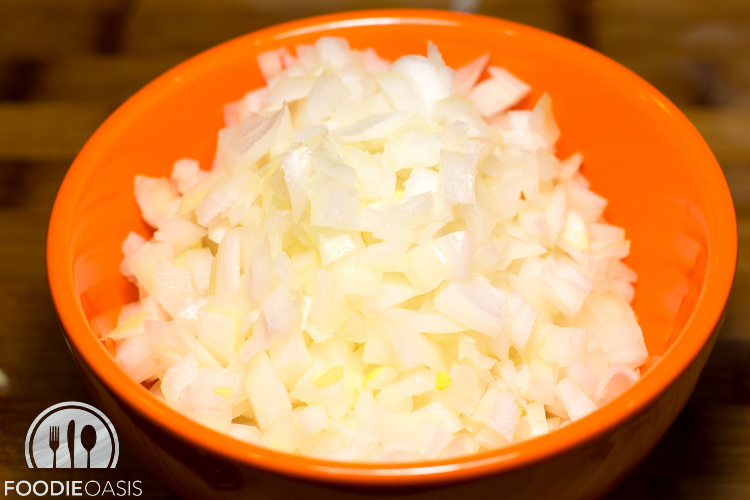 Next I chop some cilantro.  You can see that I kept a few of the stems.  They have quite a bit of flavor, but you could just use the leaves if you prefer that look…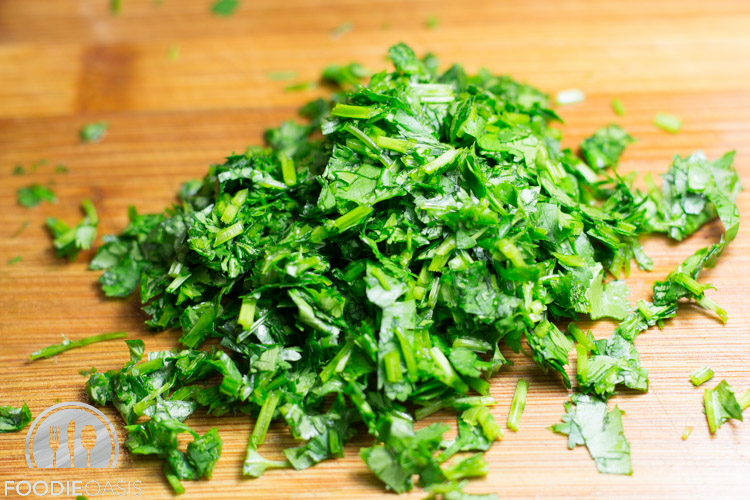 and for some heat, finely chopped Serrano peppers.  I like quite a bit of spice, so I left in the seeds, but you can remove the seeds and membranes if you want a little less heat.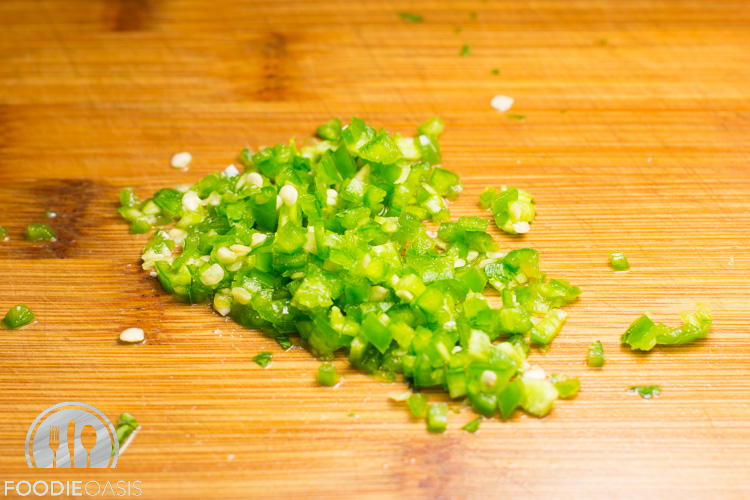 All that is left is to combine these ingredients in a bowl.  You can add a little salt and a squeeze of lime if you like.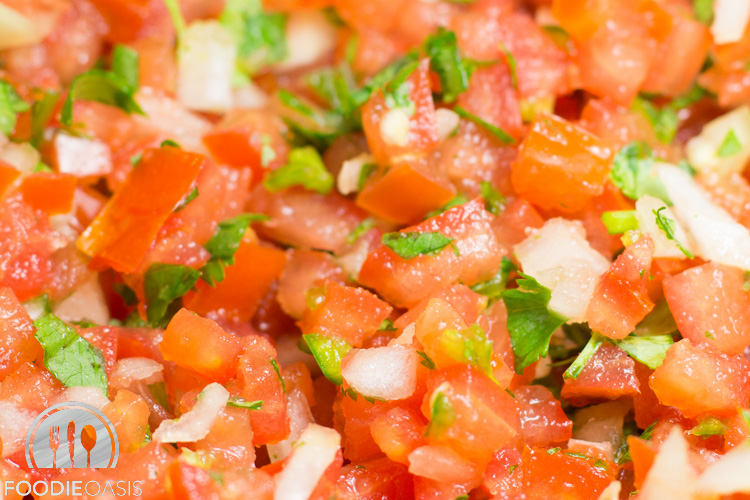 Once the pico de gallo is made, the guacamole is a snap.  Just halve and peel ripe avocados and place them in a bowl.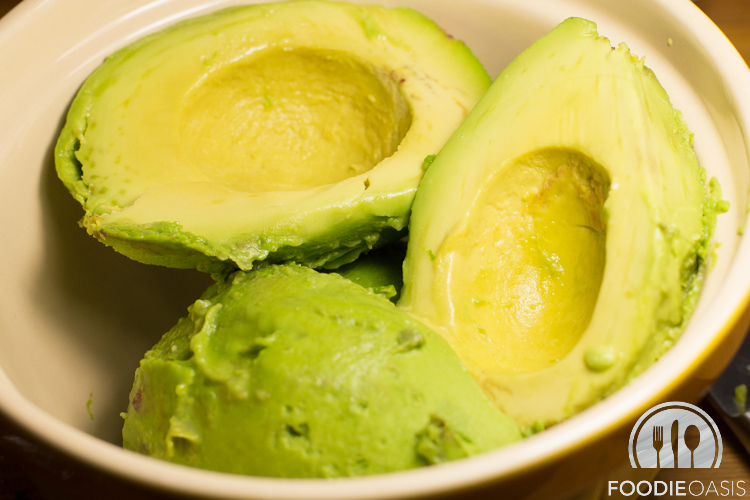 Then using a fork or potato masher, mash the avocadoes.  You can leave it chunky or make it smooth.  Now for the really easy part.  Just take a scoop of the pico de gallo and gently stir it into the mashed avocados.  A squeeze of lime juice will help prevent the avocados from darkening.  Like magic, you just made guacamole!
Now you have three dips ready for your party—pico de gallo, queso, and guac!  We just need some taco meat.  I make a really easy version.  I just brown lean ground beef in a skillet with chopped onion and salt and pepper.  When it is browned, I stir in a little jarred, medium picante sauce for a mildly spicy taco meat.  It is perfect for tacos, nachos or the Taco Queso!  If you want it spicier, you can use hot picante sauce and/or add in some chopped Serrano peppers.
Now we can assemble the Taco Queso.  Put a ladle of chile con queso in a bowl.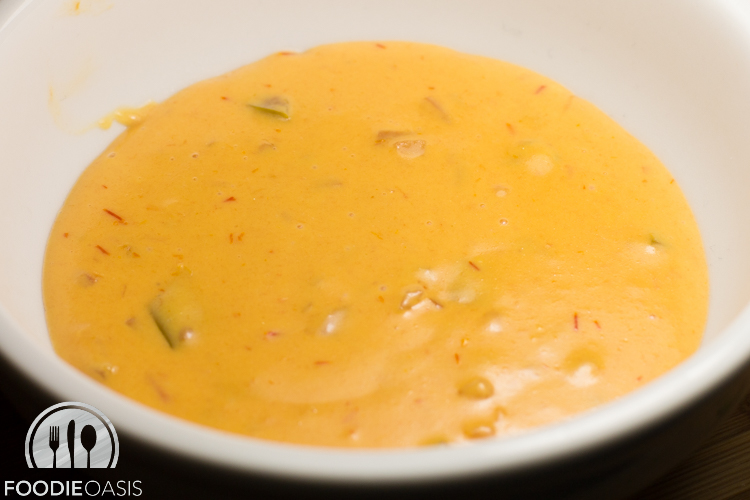 Sprinkle some of the warm taco meat on top.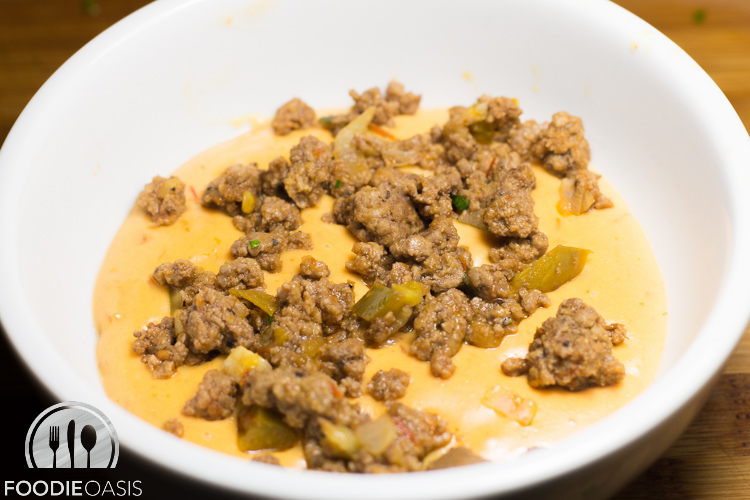 Then add another ladle of chile con queso, a scoop of guacamole, and a sprinkling of pico de gallo on top.  You can make another bowl without the taco meat for the vegetarians in the crowd!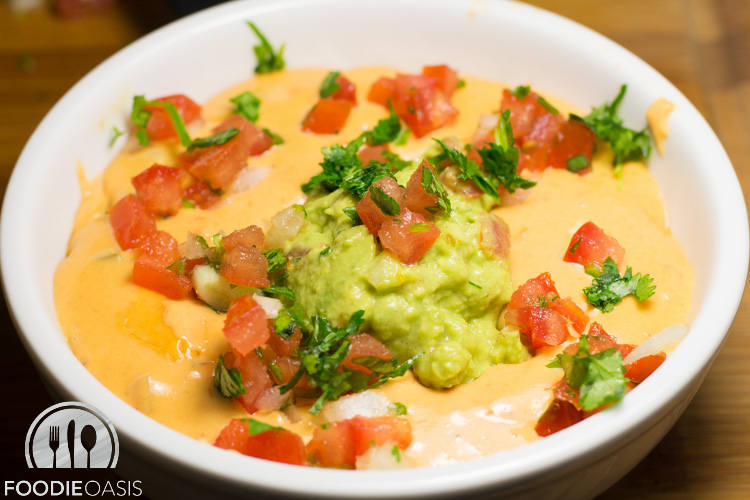 Now it is time for the game!

Taco Queso
This chile con queso is the ultimate party dip and perfect for game day!
Author:
FoodieOasis | Jo Dale Carothers
Recipe type:
Appetizer/Dip
Ingredients
Chile Con Queso
1 lb. Velveeta (really!), cut into small cubes
1 to 2 ounces cream cheese (optional)
1 cup medium picante sauce (e.g., Pace's)
Pico de Gallo
2½ cups chopped tomatoes (about 8-10 tomatoes)
½ cup onion, chopped
1-3 Tbsp. Serrano peppers, finely chopped (depending on how hot the peppers are and how hot you like your pico de gallo)
½ cup cilantro, chopped
Salt to taste (optional)
Juice of t/4 to ½ a lime (optional)
Guacamole
2 avocados, mashed
½ cup pico de gallo
Juice of ½ Lime
Salt to taste (optional)
Taco Meat
1 lb. Lean ground beef
1 cup chopped onion
1 cup medium picante sauce
1 Serrano pepper, finely chopped (optional)
Salt and pepper to taste
Taco Queso
2 cups chile con queso
½ to ⅔ cup taco meat
½ cup guacamole
¼ cup pico de gallo
Instructions
Chile Con Queso
Melt the cheese and picante sauce in a slow cooker, microwave bowl or over low heat on the stove.
Pico de Gallo
Chop the tomatoes, onion, cilantro and Serrano peppers.
Combine them in a bowl.
Add salt to taste (optional).
Add a squeeze of fresh lime juice, if desired. I usually prefer to skip the lime.
Guacamole
Halve and peel the avocados, removing the seeds.
Mash the avocados with a fork or potato masher until the desired texture. You can leave it chunky or mash it until it is smooth.
Add the pico de gallo and stir gently.
Squeeze lime on top and ;et it spread to cover the surface of the guacamole, but do not mix it in.
Cover it with plastic wrap, letting the plastic wrap touch the top of the guacamole, until ready to use.
Taco Meat
Brown the ground meat and chopped onion in a skillet, breaking it into small pieces as it cooks.
When the meat is cooked, stir in the picante sauce and Serrano peppers (optional).
Let the mixture heat through.
Assembling the Taco Queso
Place 1 cup of chile con queso in a bowl
Sprinkle the taco meat on top.
Place another cup of chile con queso on top of the taco meat layer.
Scoop the guacamole top of the chile con queso in the center.
Sprinkle pico de gallo over the top.
Notes
Chile Con Queso Note: you need one cup of picante sauce for each pound of Velveeta. My regular-sized slow cooker will hold about 4 pounds of Velveeta with the 4 cups of picante sauce. That is a lot of queso, but it is perfect for a big party. Just cut it in half for a smaller group. Leftovers can be reheated in the microwave the next day!

Feel free to double, triple, or quadruple these recipes depending on the size of your party.
© 2016 FoodieOasis